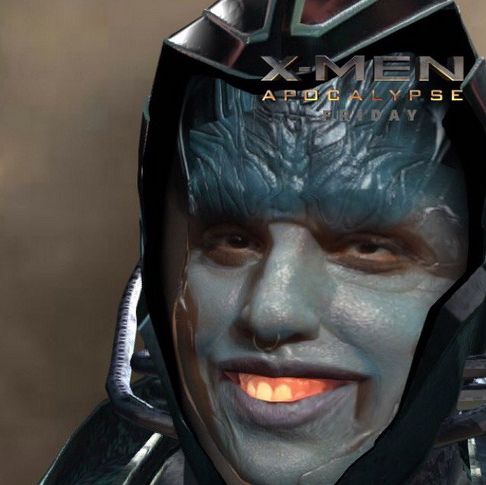 Monday, in a departure from its usual digital menagerie of puppy dog ears, flower crowns, and distorted chins, Snapchat's filters — the custom face-tracking camera-lens overlays that the social network is as famous for — consisted entirely of something a little more fanciful: branded content for the movie X-Men: Apocalypse.
Users were given nine choices of filter, each of which let them replace or overlay their faces with the faces and costumes of a character from the franchise, from Magneto to Professor X. Users could also buy tickets for the film via ads in Snapchat's Discover section. (This feature will be available through Thursday.)
But, at least as far as many Twitter users were concerned, the X-Men extravaganza was a flop. Snapchat's filters have never been constant and change regularly, but the public reaction to the takeover wasn't positive. Many people were celebrating Tuesday's return to normalcy on the app. ("Normalcy" being animated rainbow puke.) Some even went so far as to imply that they'd stopped using the app on Monday in a temporary boycott to get Snapchat to bring back their beloved filters.
The X-Men campaign marks the first time any brand or company has completely taken over Snapchat. I hate to say it, but: Get used to it. Less than a year ago, Snapchat introduced branded geofilters, and it's these static, geographically limited image overlays, added by users to an already-taken photos, that have gotten the most attention from advertising press.
But it's the bizarre face-morphing filters that have really hooked users, and it's those that will be the really attractive opportunity for advertisers. It's not just that people love the filters and spend an enormous amount of time using them: It's that they're made to show people's faces, not their lunches. And as you might intuitively guess (and as research has borne out), photographs of faces are by far the most engaging kind of image on social media. If you can can get people to use your Snapchat filter, you're turning them into walking billboards, de facto endorsing chain restaurants or superhero movies to friends.
That's valuable, even if it does lead to a Twitter outcry. I didn't love Taco Bell's anthropomorphized taco filter, but it was viewed a staggering 224 million times, making it the top campaign in Snapchat history. ("Taco Bell and Snapchat credit the campaign as a success because the taco-shaped head was subtly branded," Adweek noted. I'm not sure "subtle" is the right term.) While we don't know how much 20th Century Fox shelled out for Monday's filters, the New York Times reports that sponsoring a lens can cost $450,000 to $750,000 per day. (And that's just a single lens!)
With the rate at which the Snapchat landscape is evolving (the company is reportedly overhauling its Discover page in June and it wasn't all that long ago that paid lenses were a thing), all this could change faster than a teenager can filter, caption, and send a snap. For now, if you're looking to spend hundreds of thousands of dollars on a Snapchat campaign, maybe just start with one filter instead of nine. And see whether you can find a way to wedge a giant taco in there.