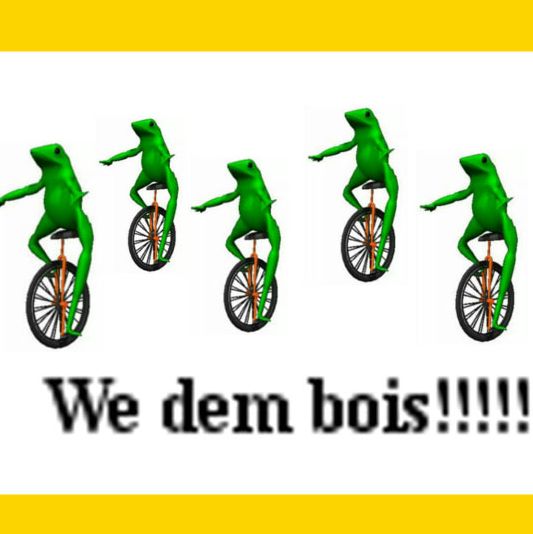 Last Wednesday, a Twitter user named David Magno discovered something in his physics textbook: Dat Boi.
"Dat Boi" is, of course, a unicycling frog. He is the central figure in a new and spectacularly impenetrable meme: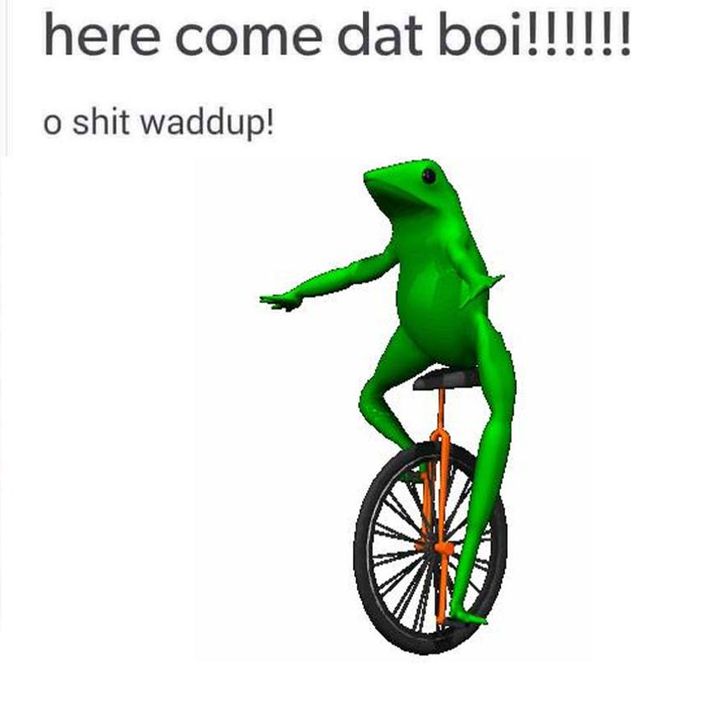 Is it possible to explain Dat Boi?
Step 1: You see the frog, who is "Dat Boi," the titular boi
Step 2: You greet Dat Boi with a studiously casual "o shit waddup"
Dat Boi is funny because the frog does not look like the kind of person you'd call "Dat Boi." He's a frog, and he's on a unicycle. And yet, his relaxed demeanor projects the kind of imperturbable mellowness you would expect in someone called Dat Boi. This is about as good an explanation as I can muster. Dat Boi is also simple and easy to mix into other memes and jokes. (Here's a good roundup at Daily Dot.)
Dat Boi, like many great memes, is in fact a combination of two older memes. The call-and-response dialogue derives from a less well-known meme that has been working its way around Tumblr over the last year or so: A similarly goofy image of what appears to be a 3-D-animated Pac-Man entering a home. "Here come Dat Boi!" "Oh shit whaddup!"
The frog animation, like the dialogue to which it was later joined, had been winding its way across Tumblr and Twitter for months. According to at least one account, the version involving the frog first appeared on a Facebook page called "Fresh Memes About the Mojave Desert and Other Delectable Cuisines."
But where did the frog — Dat Boi himself — originate? Not in AP Physics 1 Essentials, its author, Dan Fullerton, told me over the phone: "I was working on a problem about rotation. I thought the art was interesting, and so I made the problem about that." Fullerton, who teaches high school physics, said he would ask his students about Dat Boi.
Fullerton had licensed the image from Animation Factory, a sort of Costco for weird animated GIFs. Animation Factory should be familiar to listeners of the podcast Reply All, which delivered a definitive history of the service in a recent episode. Animation Factory was launched amid the Web 1.0 dot-com boom at the end of the last century; the idea was to offer bespoke animated GIFs to clients, and slowly the service built up a treasure trove of goofy, lovable, and inexplicable clip-art animations. Which leads us to the frog on the unicycle, Dat Boi.
Ryan Hagen, who worked at Animation Factory during that period, affectionately described the work that he and his colleagues created as "bizarre off-the-wall garbage."
"Essentially, as an artist," he recalled, "we were told 'make whatever you want.' And we were all a bunch of weirdos so you got weird things, like frogs riding unicycles or doing push-ups."
According to Hagen, the auteur who created the frog-unicycle GIF was a man named Josh Doohen. For a number of reasons, Animation Factory has changed hands and had multiple owners over the years. As Reply All put it, the company's original founders sold just before the dot-com boom, becoming employees at their own company and reaping little benefit. Those early workers, including Doohen, reportedly do not have any interest in discussing the company's rise and fall (nor its current, ironic resurgence). Messages left for Doohen on Facebook and at his office were not returned.
As for Animation Factory's current owners, they love the attention that Dat Boi has been receiving. In an emailed statement, Alison Hoy, the president of Vital Imagery, Animation Factory's current owner, said, "We are very excited to see the resurgence in popularity of animated GIF images on the Internet, and in social media particularly. A good meme (and who doesn't love a frog on a unicycle!) can really brighten up your day."
Hoy made sure to mention that Animation Factory has more than 500,000 other GIFs. Just wait until the memers find them.