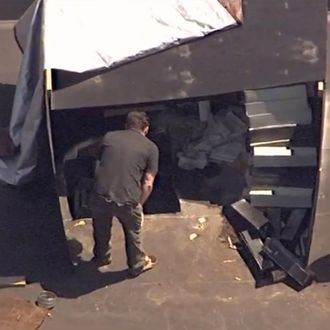 Did not see this one coming.
Photo: WABC
A few crafty thieves in Queens spent at least part of their weekend executing a fairly creative bank heist. The robbers cut a hole in the roof of the Maspeth Federal Savings Bank, where they dropped into the vault and stole the contents of about three dozen safe-deposit boxes. They cobbled together a plywood hut, painted black, to cover up their hole — ostentibly allowing them to work uninterrupted at night. The thieves left that and the empty safe-deposit boxes behind on the roof. Cops aren't sure of the total value of the haul just yet. 
This is the second time in recent months that burglars have cut a hole in the roof to rob a bank. The other theft took place in Borough Park, Brooklyn, in April, when criminals got away with $280,000. Police are looking to see if these two crimes might be connected, and if the city has a serial roof cutter on its hands who's really into your grandma's jewelry.