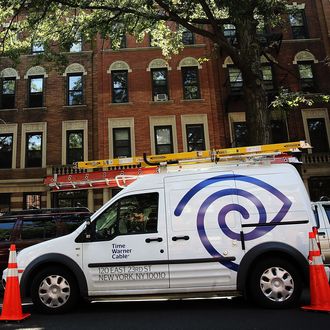 Never again.
Photo: Spencer Platt/Getty Images
It's official: You'll never again spend another evening on the phone with Time Warner Cable trying to get your internet back up. Instead, those calls will now go to Charter Communications, which today completed its $56 billion purchase of Time Warner Cable, spelling the end of the brand that was formed in 1989 with the merger of Time, Inc., and Warner Cable. Federal regulators had signed off on the deal last month, and it cleared its final regulatory hurdle last week.
Charter also completed its $10 billion purchase of Bright House Networks, and a spokesperson told Bloomberg that while existing Time Warner customers won't see any changes immediately, the newly expanded company will be called Charter, and products and services will be marketed under the "Spectrum" brand.
NY1 reports that the deal "makes Charter the new parent of TWC News and NY1," and that "The news channels are expected to be rebranded under a new name." You may recall that three years ago, when Time Warner announced that it would be changing the beloved local station's name to "TWC News" (which it used in other parts of the country), opposition was so loud that the "NY1" branding was ultimately kept and tacked onto the new name "Time Warner Cable News NY1." Here's betting that while most New Yorkers won't mind the "Time Warner Cable" name going away, they'll fight to keep the NY1 name alive in some form.