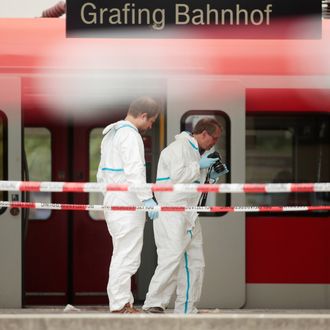 German police secure the crime scene after a deadly knife at train station outside Munich.
Photo: Johannes Simon/Getty Images
A 27-year-old man waged a deadly knife attack at a train station in a small town near Munich, Germany, early Tuesday morning, killing at least one person and hurting three others. Witnesses said the assailant boarded a commuter train in Grafing with a four-inch knife and screamed "Allahu Akbar" (which means "God is great" in Arabic) and "you infidels." He stabbed a 56-year-old man aboard the train who later died of his injuries.
The attacker impaled his second victim on the platform, who was apparently delivering newspapers. He struck twice more near the entrance of the train station, attacking two men on bicycles. At least one of the victims, all of whom were men in their 40s and 50s, suffered severe injuries. The assailant appeared to choose his victims at random. 
German investigators said, despite the attacker's cries, they do not believe the stabbing was a terrorism-related "lone wolf "attack. Authorities arrested the man, whom local media identified only as Paul H. He is a German citizen, and officials said they believe he may be mentally ill or possibly on drugs — though they're still investigating any political motives, reports Reuters. German police said he didn't have any known extremist background but had had run-ins with law enforcement for drugs. 
Witnesses described the train, which was covered in bloody footprints. The knife-wielding man only wore socks, one man told a German news outlet. "I heard screams," said that witness describing the incident. "I saw a man lying on the ground, begging a man who stood over him. 'I love God, I love Allah,' he was saying, obviously to save himself."