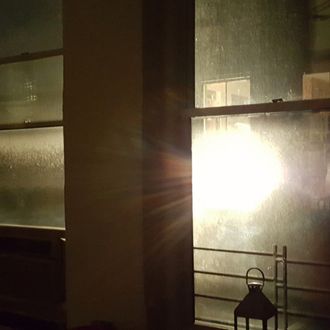 That's a spotlight, shining into a Tribeca man's apartment.
Photo: Frey & Koazk LLP
An alleged dispute between two downtown neighbors began the way so many do: One person does something that annoys the other, and they go back and forth trying to find a solution. But this particular dispute did not end so harmlessly: In a lawsuit, a Tribeca resident claims that his neighbor was so furious about the glare from his big-screen TV that she installed a spotlight, strobe lights, and even some spinning colored lights to shine into his apartment.
Rich Miele's lawsuit claims that his neighbor, Suellen Epstein, was annoyed by the light of his 50-inch TV, which glowed into her apartment from across the 50-foot shaft that separates their two units. According to the suit, Epstein, 67, asked Miele, 46, to close the blinds in his apartment while watching TV. He countered by offering to install high-tech, remote-control-operated blinds in Epstein's apartment, which she refused.
Instead, according to the suit, Epstein installed "large extra-bright spotlights" in her window, which were pointed right at Miele's apartment. One "Broadway-style spotlight" was positioned to shine directly into his bathroom, according to the suit, which also claimed that the lights would remain on as late as 3 a.m.
"The spotlights cause my entire living room to spectacularly fill up with bright light every single night," said Miele in court papers.
According to the suit, filed in Manhattan Supreme Court, Epstein didn't stop with the spotlights, later installing strobe lights and, for an apparent bit of whimsy, spinning color lights.
Miele says he's suing to get her to unplug the lights, but she's cut off contact with him. (She didn't respond to the New York Post's requests for comment.) He did win a temporary order from a Manhattan judge that prevents her from shining the lights into his apartment until a June hearing. According to the Post, she has so far honored it.