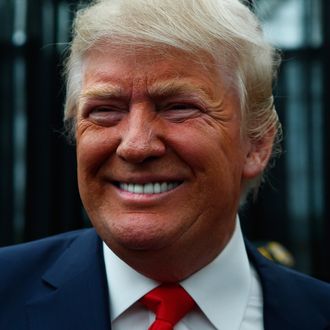 This guy's full of suggestions.
Photo: Kena Betancur/AFP/Getty Images
"It was just a suggestion" is a perfectly valid excuse in no small number of situations. Like when you recommend a new barbecue joint to a vegan, or say to a roommate, "Maybe we should just get drunk and watch the Adventures of Pluto Nash," and they look at you with worry in their eyes.
But when a major presidential candidate calls for "a total and complete shutdown of Muslims entering the United States" — and then decides that he may want to distance himself from a policy of overt religious discrimination — the phrase "it was just a suggestion" doesn't seem quite right.
"We have a serious problem, and it's a temporary ban," Trump told Fox News Radio's Brian Kilmeade Wednesday, when asked about the controversial proposal. "It hasn't been called for yet, nobody's done it, this is just a suggestion until we find out what's going on."
On Friday's edition of Fox & Friends, Kilmeade asked Trump about the skeptical media coverage that greeted his claim that the Muslim ban was a mere suggestion.
"Yeah. It was a suggestion. Look, anything I say right now, I'm not the president, everything is a suggestion," Trump reasoned. "No matter what you say, it's a suggestion."
Trump went on to say that he and Rudy Giuliani were putting together a team to find out what's going on with "radical Islamic terrorism."
"We have to find out and get to the bottom of the problem before we can solve it," the GOP nominee said.
In recent days, Team Trump has assured Republican elected officials and donors that the candidate is highly suggestible on policy matters. Although he campaigned in defense of entitlement benefits, his chief policy adviser, Sam Clovis, told The Wall Street Journal this week that he would gladly consider Social Security cuts once in office. On Thursday, Trump met with Paul Ryan and told him that he shares the Speaker's commitment to the Constitution, limited government, and the separation of powers.
Of course, if Supreme Leader Trump ever decides to dissolve the legislature, he can remind the Speaker that everything he said before attaining power was only a suggestion.