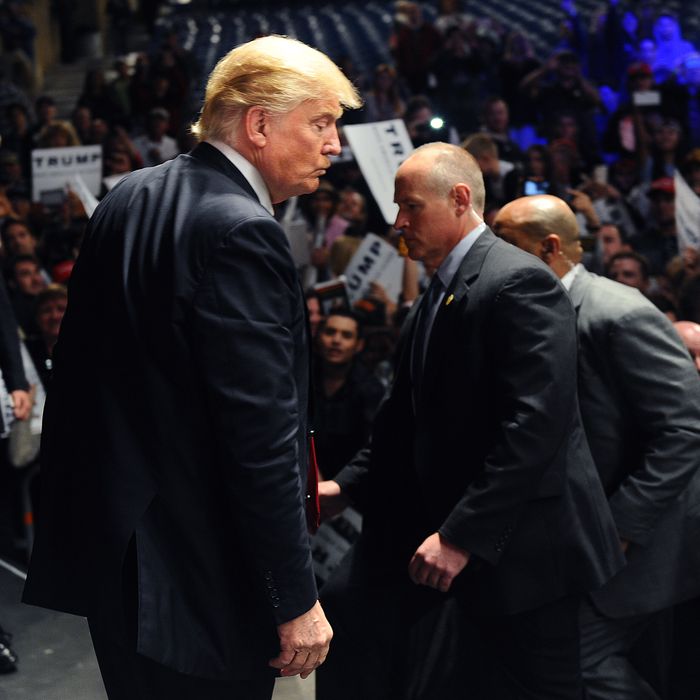 Donald Trump: team player?
Photo: Wally Skalij/2016 Los Angeles Times
Donald Trump has ostensibly swept the GOP nomination with just three ideas: a big wall, jobs, and America-first foreign policy. But, with the possible exception of the third, Trump has yet to explain exactly how he'll bring any of those ideas to fruition. His positions are nonexistent at worst and shaky at best, as evidenced by his reversal on not one but three of them just this week (his ban on Muslim immigration, the release of his tax returns, and his plans for overall tax reform, for those keeping track).
Trump's policy waffling is part of the reason fellow Republicans are hesitant to unify behind him. But if it goes well, his trip to Washington on Thursday will change that. According to Politico, Trump's team is descending on the capital to convince Republican lawmakers to exchange policy input for support in the general election.
"I think it would be beneficial for him to reach out to as many members of Congress as he can," Representative Bill Flores, who's the chair of the Republican Study Committee, told the Hill. "A lot of people want to know what Mr. Trump's policies are." Flores, like House Speaker Paul Ryan, has yet to endorse Trump.
And evidently, Trump's campaign knows that shoring up its candidate's conservative bona fides will help his case. "They're planning policy presentations and policy papers, and his folks are looking for as much input as they can get," Representative Chris Collins — a Trump backer from New York — told Politico. "They're not coming into this with preconceived details and notions. That's healthy." Early Trump supporters on Capitol Hill are reportedly putting together op-eds on everything from NATO to immigration to health care — they see Trump's cry for input as a chance to dust off those ideas that have languished during the Obama presidency. 
According to the Hill, Trump will also use the trip as a chance to introduce himself to lawmakers and to schedule more meetings for the future: with the House Freedom Caucus, with the RSC, and with the entire 246-member Republican conference. "A lot of members don't know him," House Majority Leader Kevin McCarthy said, adding that Trump's presence would give them a chance to ask him questions.
The end result could be a Trump campaign that not only has firmer policy positions but also has other GOP lawmakers invested in its proposals. If all goes according to plan, Trump could come out of Thursday's meetings with far more support than he has going in.
Of course, his meeting with Ryan will be the most high-profile, and other conservatives will likely eye its result to figure out how they'll respond to the presumptive GOP nominee themselves. But even if the Ryan meeting bombs, Trump's good-faith effort could go a long way in building bridges within the party.