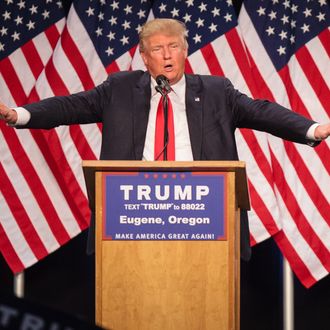 Don't expect Trump to coast to the convention without being Trump.
Photo: Rob Kerr/AFP/Getty Images
Presumptive Republican presidential nominee Donald Trump is escalating his efforts to explicitly link Hillary Clinton to her husband's alleged affairs. Speaking at a rally in Oregon on Friday night, Trump accused Clinton of working to destroy the lives of women who accused former president Bill Clinton of such behavior, suggesting that, "She's been the total enabler. She would go after these women and destroy their lives. She was an unbelievably nasty, mean enabler, and what she did to a lot of those women is disgraceful." Added Trump, "So put that in her bonnet, and let's see what happens, OK?"
As CNN notes, Trump had previously only called Clinton an "enabler" of the alleged affairs, and before that mostly referred the Clinton-era scandals more indirectly. Citing no supporting evidence or sources for the accusations, Trump also asked the crowd, "Have you ever read what Hillary Clinton did to the women that Bill Clinton had affairs with? And they're going after me with women?"
Trump additionally tried to deflect the wide condemnation of his numerous comments about women by insisting first that "nobody respects women more than me" and then by suggesting that Bill Clinton was much worse anyway:
Nobody in this country — and maybe in the history of this country, politically — was worse than Bill Clinton with women. He was a disaster. He was a disaster. I mean, there's never been anybody like this.
Of course, Trump is facing a lot more criticism for his remarks about women and his positions on women's issues than from just the Clinton campaign, but he is undoubtedly ramping up his attacks as he tries, as he has with other political opponents this cycle, to develop a rhetorical caricature of Clinton that undercuts her support among voters. While he's been most likely to refer to Clinton as "Crooked Hillary" up until now, it's also not the first time Trump has tried the reverse-sexism track against Clinton, and his attempts to resurrect the '90s with regards to Bill Clinton's sex scandals will surely continue.
Trump also used Friday night to respond to recent criticism from Democratic senator Elizabeth Warren, who he said he hoped Clinton would choose as a running mate since Warren, according to Trump, is a "goofus" and a "basket case."
In the meantime, the Clinton campaign is actively seeking support from both #NeverTrump Republican donors and Republican women in swing states who are disenchanted with their party's new nominee, as the New York Times reported on Friday.