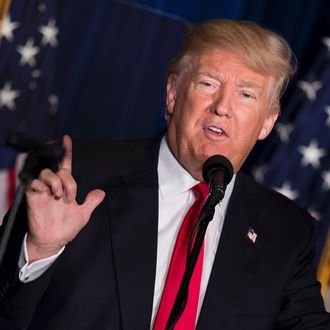 Cross his heart and hope to die.
Photo: Brendan Smialowski/AFP/Getty Images
Donald Trump's press secretary clarified on Thursday that the presumptive Republican nominee will not — repeat not — be adopting a new proposal for federal-tax reform, despite recent reports that he was considering an alternative to his original plan. 
The tax plan on which Trump has campaigned thus far mainly consists of an enormous tax cut for the richest Americans, along with a simplified four-bracket system and no income tax for individuals earning less than $25,000 a year (according to his campaign website, these individuals "get a new one-page form to send the IRS saying, 'I win'").
The proposal, which like everything else about Trump has been reported as "populist" and "pro-working-class," while mostly benefiting wealthy people like Trump himself, would increase the federal deficit by $10 trillion over the next decade. But on Wednesday, we learned that Trump had reached out to CNBC host Larry Kudlow and Heritage Foundation scholar Stephen Moore to help him develop a more realistic, less expensive plan.
Kudlow and Moore suggested an alternative that cost a mere $3.8 trillion over ten years and looked more like a traditional Republican tax package, removing Trump's proposed cuts for low-income households and raising the highest tax bracket ever so slightly from 25 to 28 percent (compared to a current rate of 36.9 percent).
But even though Kudlow and Moore's proposal offered all the fun of cutting taxes on plutocrats and balancing the books on the backs of the working poor, Trump campaign press secretary Hope Hicks said on Thursday, per the New York Times, that Trump's own plan had not changed — Moore responded to the news by saying he was "a little bummed out."
It's still by no means clear, however, whether Trump's original policy will survive his pivot to the general election. Shortly after becoming the presumptive GOP nominee last week, he began to drop hints that his plan was not set in stone but rather the starting point for future negotiations.
Like everything else in Trump's world, tax policy is whatever you want it to be, baby. Just as long as he doesn't have to show anyone the taxes he himself has been paying.