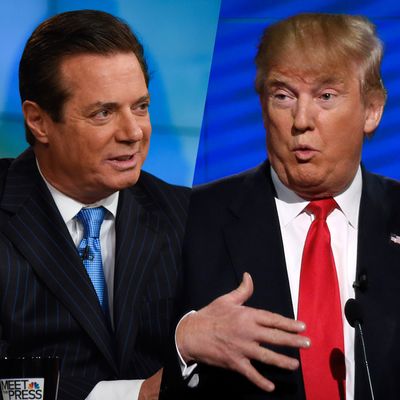 Manafort and the guy he works for.
Photo: William B.Plowman/NBC; Rhona Wise/AFP/Getty Images
Now that he's locked up the Republican nomination, Donald Trump is racing to upgrade his campaign headquarters — including a new office arrangement that would functionally separate the two warring factions of his staff, insiders say. Next month, according to three campaign sources, newly appointed chairman Paul Manafort will be moving into a renovated space on the 14th floor of Trump Tower, which formerly housed the Apprentice set. Campaign manager Corey Lewandowski, meanwhile, will likely remain in the unfinished offices on the fifth floor. "Paul's group is moving in there," an insider said. "He's running everything."
It makes sense that Trump might want to keep Manafort and Lewandowski apart. Multiple campaign advisers have described a "vicious" civil war between the two and their loyalists. (But another campaign source downplayed talk of a Manafort-Lewandowski rift: "Corey and Paul are working together and there is a cohesive team effort as the campaign prepares for the general election.")
The jockeying for power apparently started as soon Trump hired Manafort in March as his convention manager. Manafort's camp is made up of veteran operatives Rick Gates, Rick Wiley, Michael Caputo and newly hired pollster Tony Fabrizio. Lewandowski's crew includes early staffers like communications director Hope Hicks and deputy campaign manager Michael Glassner. 
In recent weeks, the feud has been playing out in public. Manafort's side, according to sources, was furious after the Washington Post reported on May 10 that Trump had tapped Lewandowski to oversee the vice-presidential search.
Manafort used the article as leverage with Trump in getting a recent promotion to the role of campaign chairman and chief strategist, according to two insiders. Lewandowski was outraged by the perceived demotion. On the night of May 18, he and Hicks reportedly got into a public screaming match on Park Avenue, with multiple sources telling the New York Post that the two were fighting over how to handle the announcement of Manafort's new role.
Hicks declined to comment.