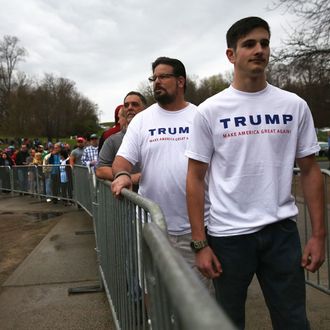 Trump's made the mistake of offending so many Americans that the margins he'll need among white men are impossibly high.
Photo: John Moore/Getty Images
It's not a secret that Donald Trump is not very, and is not likely ever to become, popular among minority voters. He's also given women a lot of reasons to dislike him for his porcine ways, and they have reciprocated with some terrible favorable/unfavorable ratings. A recent ABC News–Washington Post survey showed Trump at 29/68 among white women, a demographic group that only one Democrat (Bill Clinton in 1996) has carried since the 1960s.
Yes, of course, Trump is reasonably popular among white men, and some would argue that his piggy-piggy baiting of women could help him push his margins in his honky-bro base even higher, especially in a race with Hillary Clinton where the Democrat would likely self-identify strongly with the offended. But there are only so many voters, and when you write off too many of them you eliminate any margin for error. 
Ron Brownstein shows how narrow Trump's path to a general-election victory will be unless something fundamental changes:
[I]f Clinton matched the usual Democratic performance with non-white voters and also carried even half of white women, Trump would then need to win more than three-fourths of white men for a national majority, a daunting prospect.
"A daunting prospect" is one way of putting it. "Impossible" is another. Ronald Reagan won two-thirds of white men in his 1984 landslide victory over Fritz Mondale. Is Trump supposed to beat that? Seriously? 
No, Trump's not going to carry all of the white men in America, particularly since he strikes many of the younger bros as a cartoon-villain representation of everything they dislike and fear about the baby-boom generation. So he'd be wise to explore ways to kiss and make up with the majority of Americans he's disrespected.