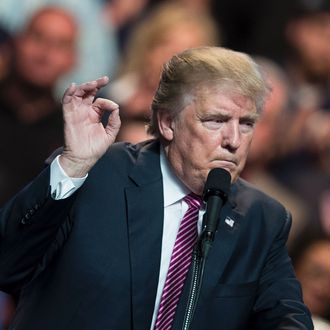 $10 BILLION DOLLARS. Nice.
Photo: BRENDAN SMIALOWSKI
Donald Trump has been evasive on the subject of his tax returns. After telling the Associated Press there's "nothing to learn" from his returns, Trump flip-flopped and said that of course he'll release them as soon as his IRS audit is complete and "not after the election!" (For the record, there's nothing to prevent Trump from making his tax returns public during his audit.)
The American people are still waiting on tenterhooks for that happy day to arrive, but on Monday, Trump filed a Personal Financial Disclosure (PDF) with the Federal Election Commission to give everyone something else to talk about. 
According to the Hill, Trump's PDF puts his net worth at more than $10 billion (a contentious claim). It also documents a change in revenue from $362 million in 2014 to $557 million in 2015 — a nearly $200 million increase. Those figures reportedly "do not include dividends, interest, capital gains, rent, or royalties." 
The full report is 104 pages and, Trump is "proud" to mention, "is the largest in the history of the FEC," just saying. He used the filing to take a swing at Bernie Sanders, who has yet to release his own report:
"Despite the fact that I am allowed extensions, I have again filed my report, which is 104 pages, on time," Trump said in a statement. "Bernie Sanders has requested, on the other hand, an extension for his small report. This is the difference between a businessman and the all talk, no action politicians that have failed the American people for far too long."
Which is nice and all, but Trump still hasn't released his actual tax returns, which are more detailed than PDFs and contain information they leave out — something Hillary Clinton, who filed financial records of her own today, was sure to bring up. "The true test for Donald Trump is whether he will adhere to the precedent followed by every presidential candidate in the modern era and make his tax returns available, as Hillary Clinton has done," a Clinton spokesperson said. But if his adherence to tradition so far is any gauge, we'll probably never see his taxes.