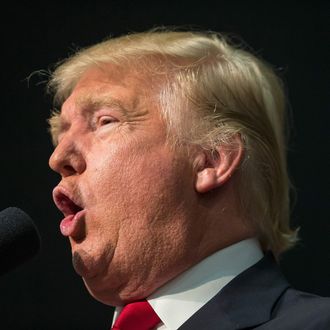 Indigenous peoples advocate Donald Trump.
Photo: Scott Olson/Getty Images
The only thing Donald Trump hates more than insensitive political rhetoric is when China "rapes our country."
"Don't forget. We're like the piggybank that's being robbed. We have the cards. We have a lot of power with China," Trump said at a rally in Indiana Sunday night. "When China doesn't want to fix the problem in North Korea, we say, 'Sorry, folks, you gotta fix the problem.' Because we can't continue to allow China to rape our country. And that's what they're doing."
The presumptive GOP nominee went on to clarify that he wasn't mad at China for its ongoing assault — rather, he was mad at our leaders for letting it happen.
"I mean, China's great. No problem. I'm not angry with China," Trump said. "I'm angry at our leaders, because they are grossly incompetent and they shouldn't have ever been elected to do this job. Terrible."
About 12 hours later, Trump criticized his likely fall opponent, Hillary Clinton, for the "demeaning" way she talks about men. On Friday, Clinton had said of Trump, "I have a lot of experience dealing with men who sometimes get off the reservation in the way they behave and how they speak … I'm not going to deal with their temper tantrums or their bullying or their efforts to try to provoke me."
"I think it's a very harsh statement," Trump told CNN's Chris Cuomo Monday morning. "It's basically 'I can handle men, don't worry about me, I can handle men.' If I made that statement about women? There would be front-page headlines … I think it's a very demeaning statement."
Trump then called out Clinton's use of the term "off the reservation." The Democratic front-runner had apologized for deploying the phrase, after receiving a wave of criticism from Native American groups.
"I won't even bring up the fact that the Indians have gone wild on that statement," Trump said, apparently referring to Cleveland's baseball team. "The Indians have said that's a disastrous statement and they want a retraction."