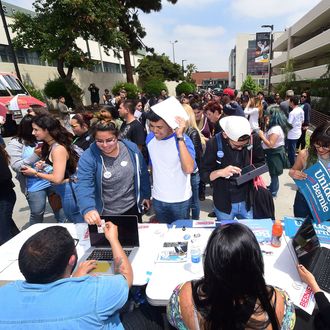 The electorate is getting less white by the day.
Photo: Frederic J. Brown/AFP/Getty images
The Hispanic vote punches below its weight. Latinos have the lowest turnout rate of any American racial or ethnic group — in 2012, Hispanics went to the polls at the same rate that non-Hispanic whites did in the 2010 midterms. And that's not counting the millions of Hispanic permanent residents who are eligible for citizenship but have neglected to apply for naturalization. Bridging this political engagement gap has been a top priority for Latino community organizations — and Democrats — for years. But evidence continues to mount that no one has done more to further the cause of Hispanic-American enfranchisement than Donald J. Trump.
The first signs of a Trump-fueled surge in Hispanic voter registration came back in March, when the federal government revealed that naturalization rates jumped 14 percent in the final six months of 2015. Now, a coalition of labor and Latino American organizations called Stand Up to Hate says that it helped 12,781 people apply for citizenship in the past two months alone. Meanwhile in California, twice as many Hispanics registered to vote over the first three months of this year than did in the first three months of 2012. In Houston, Texas, the number of monthly naturalization ceremonies has swelled since last summer. Before Trump launched his campaign (by calling undocumented Mexicans a pack of drug-dealing rapists), the city saw roughly 1,200 naturalization ceremonies each month, according to the Houston Chronicle. Since then, that figure has been 2,200.
In Iowa, the Washington Post reports that labor leaders believe five times more Hispanics voted in this year's caucuses than did in 2008. And in the potential swing states of North Carolina and Georgia, voter registration among Hispanics is increasing faster than it is among blacks or whites.
"A surge in Latino engagement is coming," Ben Monterroso, executive director of Mi Familia Vota, told the Washington Post. "Unsolicited, people tell you that 'I'm becoming a citizen because I want to vote against Donald Trump' or 'I want to vote against the attacks on our community.'"
Beyond the desire to speak out against the defamation of one's community, some permanent residents see Trump as an immediate threat to their security. The GOP nominee has promised to establish a "deportation force" capable of rounding up and deporting all 11 million undocumented immigrants. "Their concern is not unfounded," Texas congressman Joaquin Castro told the Post. "Is he going to stop with people who are undocumented? He seems like a quick step away from saying if you're not a citizen, we don't want permanent residents either."
While some expected Trump to ease up on the whole "stigmatizing vulnerable minority populations" thing once he won his party's nomination, the Donald said Wednesday that he intends to stick with the horse that brought him here.
"You win the pennant and now you're in the World Series — you gonna change?" Trump asked the New York Times.
Still, Trump probably can't claim full credit for the registration surge. As Philip Bump notes, part of the phenomenon could be due to the relative youth of the Hispanic population:
Just less than half of the Hispanics who are old enough to vote were born after 1980, thanks to the country's Hispanic population skewing younger than any other group. Since there are a lot of new registrations among younger voters (just reaching voting age, for example, or because younger voters move more frequently and may need to re-register), this could be part of what's happening.
Either way, Trump and his party need to work on their Hispanic outreach, pronto.