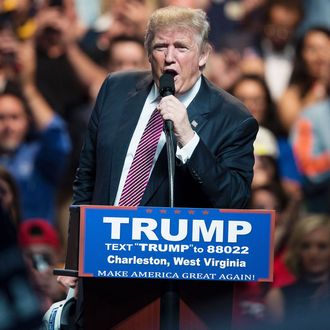 Chill out.
Photo: Brendan Smialowski/AFP/Getty Images
New polls show Donald Trump catching up to Clinton nationally, statistically tying her in two key swing states and leading her in a third. Public Policy Polling has Clinton leading Trump 42 to 38 percent nationally, down from 48 to 41 percent in March. The pollster attributes that narrowing gap to Republican voters unifying behind their standard-bearer while third-party candidates pick off more would-be Clinton voters than could-be Trumpists.
Meanwhile, Quinnipiac finds Trump leading Clinton by four points in Ohio, and trailing her by a single digit in Florida and Pennsylvania. And while many liberals are counting on Trump's rank misogyny to produce an unbridgeable gender gap, Quinnipiac shows that women are more tolerant of chauvinism than men are of female authority: Clinton wins Ohio women by 7 points, but she loses Buckeye State men by 15.
If you've assumed that Clinton's transparently superior intelligence will win voters to her side in the fall debates, Quinnipiac offers another sobering data point: Large majorities of voters in all three states already believe Clinton is more intelligent and has higher moral standards than the Donald — and they still trust him more to handle the economy.
Bottom line: These polls suggest that the American electorate may be just stupid (and/or male) enough to send a pseudo-fascist to the White House. But you really shouldn't freak out.
Here are three reasons why you don't need to apply for Canadian citizenship just yet:
1. Quinnipiac thinks the electorate is getting whiter.
All three Quinnipiac polls are based on the assumption that the 2016 electorate will be more white — and less black and Hispanic — than it was four years ago. Republicans have long hoped that without Obama on the ballot, the voter pool would lighten up a bit, so to speak. But there's little reason to think that will actually happen. Across the country, Hispanic voter registration is spiking — one group projects that Latinos will cast nearly 2 million more votes this year than they did in 2012.
What's more, Quinnipiac put up a less-than-stellar record this primary season.
2. The undecided voters in PPP's Clinton/Trump poll lean Democratic.
While Clinton only leads by four points in PPP's national poll, 14 percent of voters in the survey are undecided — and overwhelmingly liberal. In a Sanders/Trump race, this indecisive electorate backs the socialist 41 to 8 percent. PPP shows that voters overall would prefer a generic Democratic candidate to a generic Republican 49 to 41 — also, 54 percent of voters have a higher opinion of head lice than they do of Donald Trump.
Sanders has vowed to do everything in his power to keep Trump out of the Oval Office, so, once he accepts defeat and stumps for the Democratic ticket, many of these head-lice-leaning voters should come home for Clinton. And that'd go a ways toward solving her hypothetical swing-state problems, as Sanders leads Trump in all of Quinnipiac's head-to-heads.
3. All of the other polls.
We're six months from a general election. One little poll of Ohio means nothing. Right now the RealClearPolitics average of all polls shows Clinton up by a healthy 6.5-point margin. Recent surveys have found upward of 70 percent of American women dislike the Donald, and that number is climbing.
Trump is struggling to raise money, and a sizeable portion of his party does not want him to win. All signs point to a Clinton landslide. And remember, most signs — and all polling averages — pointed to Trump winning the Republican primary. If you didn't think Trump could win the primary but now believe he has a good shot of winning the general, you're probably making the same mistake twice.