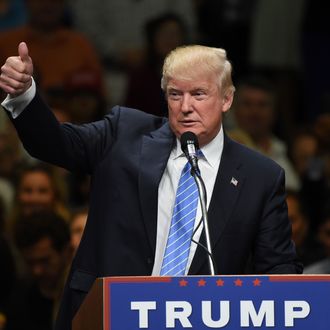 We'll see if the "putative" nominee behaves differently from the "presumptive" nominee.
Photo: ROBYN BECK/AFP/Getty Images/This content is subject to copyright.
You can take the "presumptive" nominee tag off Donald Trump and substitute "putative." According to the most widely accepted scorekeeper, the Associated Press, the mogul has quietly passed the much-discussed threshold of 1,237 delegate commitments needed to win a majority in Cleveland. 
>
The New York businessman sealed the majority by claiming a small number of the party's unbound delegates who told the AP they would support him at the national convention in July. Among them was Oklahoma GOP chairwoman Pam Pollard.

"I think he has touched a part of our electorate that doesn't like where our country is," Pollard said. "I have no problem supporting Mr. Trump."

It takes 1,237 delegates to win the Republican nomination. Trump has reached 1,239 and will easily pad his total in primary elections on June 7.
While the Republican National Committee has bent the knee to Trump from practically the moment Ted Cruz and John Kasich gave up their challenges to him, there may be other Republicans who have held out as long as there was a theoretical possibility that the Donald could finally figure out something to say or do that was so heinous his nomination would become impossible. 
So this could hasten the pace of accommodation to Trump among Republican elites. A bigger question is whether Trump himself will realize the time to attack Republican office holders has passed, or if he just cannot help himself. If he somehow fears voters will forget he's a "different kind of Republican," he can probably take care of that once and for all with the type of cheesy reality-TV-style convention he seems inclined to hold anyway.
Outside the fever swamps of political obsessives, there are probably some Americans who have ignored the nominating process and may soon wake up and say: Donald Trump is the Republican candidate for president? Are you kidding me?