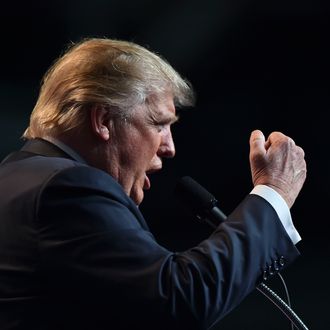 "Darn technology!"
Photo: Ricky Carioti/2016 The Washington Post
Once again, Donald Trump finds himself getting a little too cozy with a white supremacist thanks, ostensibly, to a computer glitch. In late February, Trump claimed a "bad earpiece" kept him from condemning David Duke and the Ku Klux Klan, and yesterday evening, the Trump campaign said a "database error" was responsible for its choice of noted white supremacist William Johnson as one of Trump's delegates in California.
Johnson happens to be the leader of the American Freedom Party, which "exists to represent the political interests of White Americans" and to uphold "the customs and heritage of the European American people," according to its website. Johnson is listed by the Southern Poverty Law Center as one of the group's leaders, which begs the question: Does the Trump campaign Google?
Press Secretary Hope Hicks said the snafu was due to a "database error" that "led to the inclusion of a potential delegate that had been rejected and removed from the campaign's list in February 2016." But according to emails obtained by Mother Jones, where the story originally broke, Katie Lagomarsino (Trump's California delegate coordinator) was in contact with Johnson as recently as Monday — well after its February "database error." 
For his part, Johnson promised to resign as a delegate, saying he didn't want to "gainsay the Trump campaign." He'd previously told Mother Jones he was excited to "be a white nationalist and be a strong supporter of Donald Trump and be a good example to everybody. I just hope to show how I can be mainstream and have these views," he said.
Hicks also said Johnson's name would be removed from the delegate list, but according to a statement from the office of California secretary of State Alex Padilla, that might be impossible. All delegate names must be submitted to Padilla's office by a certain deadline, and Trump's people didn't ask to change their list until May 10. That, said Padilla, is past the "statutory deadline to submit delegate lists." But perhaps Trump will keep Johnson on the list anyway — he wouldn't want to offend anybody.