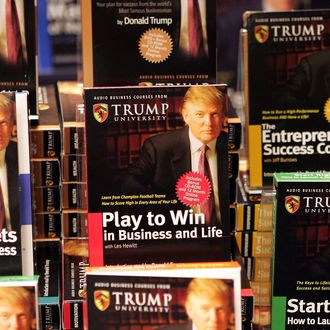 Donald Trump is a bad man.
Photo: Scott Gries/Getty Images
It's worth remembering that even before Donald Trump launched his pseudo-fascist campaign for the presidency, he was already among the most loathsome humans our great nation has ever produced. On Tuesday, U.S. district court judge Gonzalo Curiel ordered the public release of Trump University's "playbooks" — guides the (bait-and-switch scheme masquerading as a) real-estate school used to recruit (or con) its enrollees. The playbooks show that prospective students were encouraged to pay for the program, which could cost up to $35,000, by going into credit-card debt.
In practice, Trump University staff delivered this message a bit more crudely, according to newly released written testimony obtained by the New York Times. "It's O.K., just max out your credit card," Corrine Sommer, an event manager at the school, recalled her colleagues telling prospective students.
If a cash-strapped applicant said, "I don't like using my credit cards and going into debt," the playbook instructed recruiters to respond, "[D]o you like living paycheck to paycheck? … Do you enjoy seeing everyone else but yourself in their dream houses and driving their dreams cars with huge checking accounts? Those people saw an opportunity, and didn't make excuses, like what you're doing now."
Most charmingly, the playbooks suggest recruiters exploit the desperation of a single parent with hungry children in order to convince said parent to take on massive credit-card debt.
Whether or not Trump University constituted a legal fraud remains to be adjudicated. But the tycoon already admitted that one of the school's core promises to students was a lie, in a sworn deposition last December. In promotional materials, Trump assured students that the school's professors "are people that are handpicked by me." On the witness stand, however, Trump failed to recognize the name of "a single presenter or teacher at his real estate seminars," CNN reports.
According to Sommer, one of the school's lecturers on real-estate investing had been promoted from the sales team. He had previously worked as a jewelry salesman and had "no real estate experience" whatsoever.
The Republican nominee is literally, objectively, a con man.