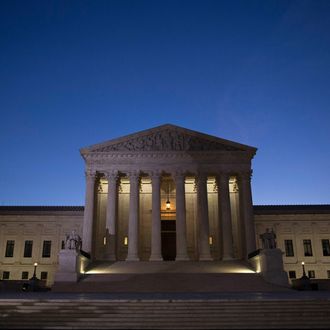 Donald Trump's list of potential replacements for Antonin Scalia leans Right — and white.
Photo: Drew Angerer/Getty Images
So he missed his original self-imposed deadline by six or seven weeks, but today Donald Trump did release a list of 11 possible nominees for the Scalia seat on the Supreme Court. Most of the press surrounding this potentially very important event revolved around the Twitter history of Texas Supreme Court Justice Don Willett, a member of the list who has mocked Trump on social media occasionally. But that's really a sideshow.
The first thing you should know about Trump's SCOTUS list is that it picks up five of the eight candidates recommended by the movement-conservative Heritage Foundation earlier this year: Willett, everybody's favorite judicial radical, plus circuit court judges William Pryor, Diane Sykes, Steven Colloton, and Raymond Gruender.  Any of these worthies can be counted on as a hard-core vote to overturn Roe v. Wade, uphold or even extend Citizens United, and (certainly in the case of Willett) consider the revival of early-20th-century jurisprudence invalidating social programs and business regulations on a broad scale. A sixth Heritage favorite who did not make the cut, Sen. Mike Lee (presumably being punished for dragging his feet on a Trump endorsement), could feel satisfaction in the fact that his brother, Utah Supreme Court Justice Thomas Lee, is on Trump's list.
The other five Trump SCOTUS possibilities are less illustrious, but all have very solid Republican and conservative credentials. Two women other than Sykes are on the list, both of them pretty recent state Supreme Court appointees: Joan Larsen of Michigan, a former Scalia clerk; and Allison Eid of Colorado, who clerked for Clarence Thomas. David Stras of the Minnesota Supreme Court is another former Thomas clerk.  Two more Circuit Court judges, the Sixth Circuit's Raymond Kethledge and the Third Circuit's Thomas Hardiman, fill out the list. 
Cynics will note that seven of Trump's would-be Supremes are from potential general-election battleground states: Colorado, Iowa, Michigan (2), Minnesota, Pennsylvania, and Wisconsin. I'm sure that's a coincidence.
What's not a coincidence is that ten of these people (all but Pryor) are under the age of 55. Trump-phobic conservatives are being encouraged to think of Trump as a short-term sacrifice with a big long-term payoff: a right-wing Justice who'll be on the Court for 20 or 30 years.
Oh, did I forget to mention? All 11 of them are white. Guess there's enough diversity on the Court for the time being, right?