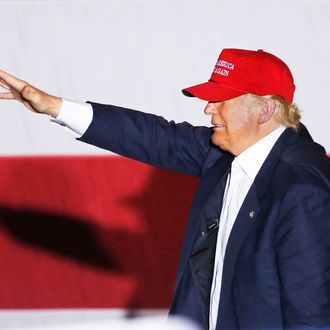 Photo: Rhona Wise/AFP/Getty Images
Donald Trump's candidacy is abnormal in so many ways — some of them hilarious — that important markers tend to slip past the public with little notice. One of those was a radio interview Trump's longtime ally Roger Stone gave this weekend with Breitbart News Saturday. In the interview, Stone denounced CNN and warned, "When Donald Trump is president, he should turn off their FCC license." The context for this threat is that Trump previously denounced coverage in the Washington Post, implicitly threatening to go after the paper's owner on antitrust and tax issues as retribution for the Post's coverage. Now Stone is making in a completely undisguised fashion the threat Trump made in a barely disguised fashion.
So, here we are. The Republican Party is running a presidential nominee who is threatening to punish independent news media. Richard Nixon used to rant about this sort of idea in private, but he never did it, and he certainly didn't talk about it in public. Now it barely even registers. This is not normal. None of this is normal.