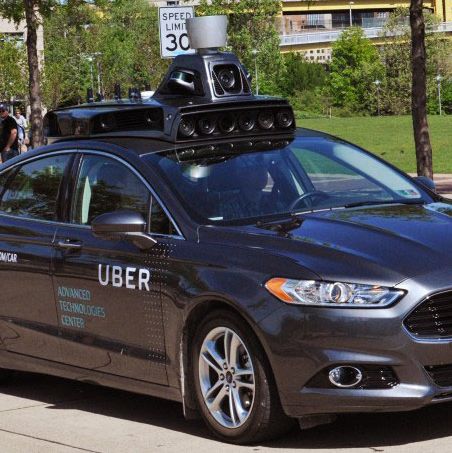 Uber announced this morning that, over the next few weeks, it will begin testing its much-anticipated autonomous vehicles on the streets of Pittsburgh. The model, a Ford Fusion hybrid, was developed by the company's Advanced Technologies Center (which you might recall is now staffed by former Carnegie Mellon researchers after Uber raided their robotics lab).
The sensor on top of Uber's car is equipped with 22 large lenses and a series of spinning lasers, allowing the car to see 100 meters in any direction.
The demo appears to have gone off without a hitch. As a safety mechanism, the vehicle emits a loud beep whenever it gets stumped and needs the human driver monitoring the car to take over.
The head of the Uber ATC, John Bares, gave Pittsburgh a backhanded review when telling the Pittsburgh Tribune-Review why he enjoyed testing in the city:
Bares said the city's narrow and hilly streets, haphazard parking, rainy and snowy weather and aging infrastructure have made the city a challenging place to test self-driving

technology.

"We have the world's best test site right at our doorstep," Bares said. "We view it as, it's not quite Everest, but it's a hard mountain … but the beautiful thing is we do have that mountain right out of our front door to climb."

"Driving in Pittsburgh is a living nightmare, an ordeal like summiting the forbidding peaks of the Himalayas. Only a city as inhospitable as Pittsburgh can truly test our coming robot-car army." —Uber