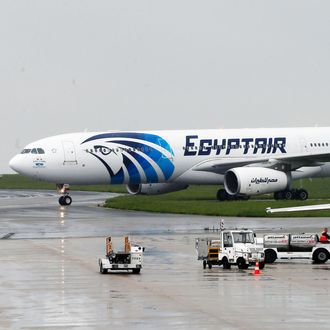 An EgyptAir jet.
Photo: Thomas Samson/AFP/Getty Images
Greek authorities have been searching for the missing EgyptAir flight MS804 since 3:30 a.m. local time yesterday, when the plane disappeared from air-traffic-control screens over the Mediterranean Sea. So far, they've discovered no trace of wreckage (an earlier report of wreckage thought to belong to the plane turned out to be false), and French president François Hollande told The Guardian that, "No theory is ruled out, and none is certain right now."
But in the case of the missing plane, terrorism looks increasingly likely. Egypt's aviation minister, Sherif Fathi, said that, "The possibility of … a terror attack is higher than the possibility of having a technical failure," and according to CNN, U.S. officials are operating under the assumption that the plane was downed by a bomb — although one said that theory "is not yet supported by a 'smoking gun.'"
Panos Kammenos, the Greek defense minister, said the plane made "sudden swerves" and a sudden drop in altitude before disappearing from radars. "The plane carried out a 90-degree turn to the left and a 360-degree turn to the right, falling from 37,000 ft. to 15,000 ft., and the signal was lost at around 10,000 ft.," he said.
Authorities are grappling with conflicting reports and misinformation in their search for the plane. For instance, EgyptAir vice-chair Ahmed Adel told CNN that debris spotted in the sea south of the Greek island of Karpathos was not, in fact, from the crash. "We stand corrected on finding the wreckage because what we identified is not a part of our plane," he said. "So the search and rescue is still going on." (Adel said the airline isn't directly involved in the search but is getting information from Greek officials.) 
What's more, initial reports by the airline that the plane had sent a distress signal before it went missing proved false, and Pentagon officials said "a sensitive U.S. infrared satellite system hadn't detected evidence of an explosion," according to The Wall Street Journal.
The plane, an Airbus A320, was carrying 66 people from Paris's Charles de Gaulle Airport to Cairo, Egypt, when it disappeared: Fifty-six passengers and ten security officers and crew members were onboard. In a statement, EgyptAir said it, "Sincerely conveys its deepest sorrow to the families and friends of the passengers on board flight MS804. Family members of passengers and crew have been already informed and we extend our deepest sympathies to those affected."