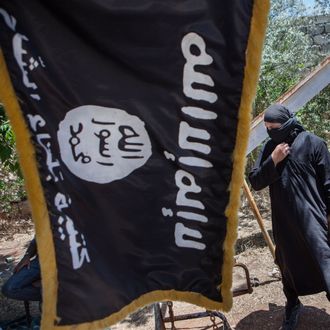 Photo: Daniel Leal-Olivas/Corbis
America just lost at least its third soldier in the fight against ISIS, after a Navy Seal died in a clash between the Islamic militants and Kurdish Peshmerga forces near Erbil, in northern Iraq. The soldier, whose name hasn't been released, was stationed there to advise Peshmerga troops, who are trying to fend off ISIS in the region.
According to NBC News, about 400 ISIS fighters charged through Peshmerga defenses; the soldier is believed to have been killed by direct ISIS fire. The Pentagon said it responded to the jihadist offense with air strikes. 
The U.S. announced last month that it's committing an additional $415 million and more than 200 additional troops to Iraq to help defeat ISIS. Perhaps highest on the American list of goals is retaking Mosul, a city of around a million people that has been occupied by the militant group for nearly two years.
This post has been updated.