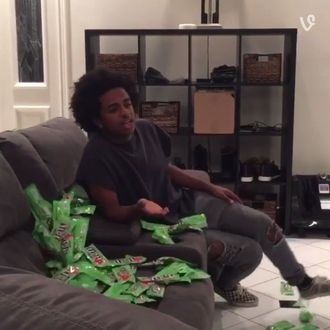 When it launched back in 2013, Vine took off at an explosive rate — especially among that most sought-after of mythical creatures, the teen. It was hard to find a teenager who wasn't keyed into the six-second video platform. Vine-native "stars" like Brittany Furlan and Logan Paul started making thousands of dollars creating branded content on the app. And the phrase "on fleek" entered mainstream vernacular, thanks to a now-infamous clip from one Peaches Monroee that has been looped 42,000,000 times and counting.
But now, it seems like things might be going the other way for Vine, according to a story today in The Wall Street Journal. The app, which just a year ago ranked in the top five in the Apple app store, has fallen to the 200th spot.
Marketers and ad buyers that paid creators to make "sponsored" Vines have soured on the app, which is owned by Twitter, and are directing dollars toward competitors like Snapchat, Facebook and Instagram. Video creators frustrated with Vine have followed the ad money, and some of the top "Viners" rarely post anymore as they focus on their other social media

accounts.
Or, as one New York City high school student told me, "Vine is kinda irrelevant now because so many new things have come out and Vine hasn't really updated anything." The new things, of course, include Snapchat stories, Instagram's 60-second video allotment, and most recently, Facebook's emphasis on video, video, and more video … with a side of live video.

While Facebook and Instagram are "extremely popular," Vine is just "semi-popular,"a Maryland teenager named Cole told me. For scale, he notes that Tumblr is also only "semi-popular."
"Vine is mostly full of ads and people promoting other pages now," Caleb, a 15-year-old from Michigan told me via Twitter DM. "It's not as popular and full of funny Vines as it used to be." Caleb thinks he's the only one of his friends still using the app.
Chandler, 15, was another teen who told me she feels like she is the last Vine holdout in her crew. "So many kids at my school used to use it and now they never do," the Colorado student said. "I think the videos on Vine are so funny, but it seems to be only me using it!"
It's not that the format suddenly stopped working; there is clearly still a market for well-executed short video. (Here I point to YouTube's new five-second bumper ads, which rolled out earlier this month.) It's just that people, namely teens, aren't looking for those videos on Vine anymore. Many of the high school and college students I spoke to said they still watch Vines (and who can blame them, Vines often involve a heartthrob, a cute animal, something exploding, or a combination of all three), but they don't bother wasting the phone space on the app.
Instead, they watch them on other platforms — especially Facebook, to which Viners will often directly upload their content. Why? As Vine star Simone Shepherd told the Journal, it's where the audience is: Some of her Facebook videos can generate between five and ten million views. (This is thanks in no small part to the fact that Facebook has been heavily promoting so-called "native," or in-platform video on its News Feed, heavily weighting it so it appears in more people's feeds. Like news media, Vine stars may soon find themselves utterly beholden to Facebook, and similarly S.O.L. if and when the News Feed sorting changes again.)
There's also the issue of the platform's popularity with brands and major companies. "We're still seeing a ton of big brands in this space," Darren Lachtman, co-founder of Niche, a combo talent and advertising agency that specializes in social media platforms like Vine, told the Journal. While that might be true, Vine consumers have also caught on to the game. "Vine stars only do advertisements. It's so annoying," Chandler explained. "They don't make their own content and they only make Vines about M&M's."
Or as my younger sister, 22, put it via text message, "Nothing feels original like when Vine first got popular. It's just whiny teens getting paid to feature products. #Spon." ("Spon" is youth speak for "sponsored content," or a post that a Viner is paid by a company to promote.)
Of course, the app hasn't died (on the Vine, there I made the joke) yet. Plenty of people are still looping through videos every day, high school kids included. "I like Vine a lot and most of my friends use it. We all love it, it's hilarious," Sam, 14, from North Carolina, told me.
Though when I reached out to Sam's older brother (a friend from college) to ask whether I could text his sibling a few questions about Vine, Sam's brother said "sure," but that texting wouldn't be the easiest way to reach him.
Instead, I had to add Sam on Snapchat.