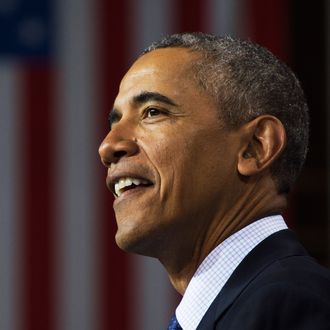 "Thanks, me."
Photo: Jim Watson/AFP/Getty Images
Sometime in early March, the American people realized they were going to miss Barack Obama — the president's approval rating has been at or above 50 percent for 10 of the last 11 weeks. Many have attributed this spike to the country's dim view of Obama's potential successors. But new data from the Federal Reserve Bank of Atlanta offers another reason for Barack's newfound popularity: The median U.S. worker has seen his or her paycheck increase by 3.4 percent over the past 12 months, the biggest year-over-year gain since 2009.
The Atlanta Fed's measure shows higher wage growth than the metric used by the Labor Department in its jobs reports. But there's reason to think the former, sunnier estimate is more accurate. As Bloomberg explains, the BLS number can be distorted by changes in workforce composition. Experienced workers tend to earn more than first-time employees. So, if a baby-boomer retires and is replaced by a millennial, that could produce a statistical decline in wages, even if individual workers are seeing compensation gains. The Atlanta Fed avoids this "cohort effect" by tracking how wage pressures affect the same individuals over time.
The bank's data also indicates a slight contraction in America's yawning income gap. Since the Atlanta Fed started tracking wage changes, college graduates have seen higher pay growth than the median worker 80 percent of the time. But 8 of the last 12 times the bank has taken its measurement, college grads have seen wage growth equal to — or below — that of the median employee.
Since the recession, wage gains have been overwhelmingly concentrated in high-income sectors populated by the highly educated. This data suggests that the working class is finally, marginally, starting to catch up. (Although, the data may also reflect the declining economic fortunes of young college graduates.)