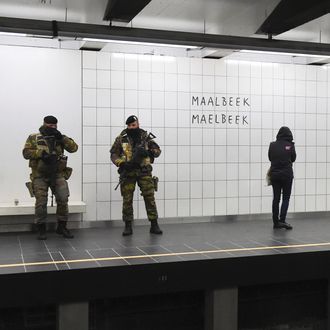 Photo: John Thys/AFP/Getty Images
Suicide bombers struck the Brussels airport shortly after 8 a.m. local time on March 22. About an hour later authorities declared the blasts a terrorist attack, and they sent out a warning to the head of the city's railway police, ordering him to close the Brussels metro system and major train stations.
But the chief, Jo Decuyper, didn't get the message until days after the attack: Police emailed the warning to his personal account at about 9:07 a.m., instead of to his official inbox. At 9:11 a.m., another explosion went off in the Maelbeek metro station, killing 16 people.
Decuyper revealed the email slipup while testifying in front of Belgium parliament about the Brussles bombings. Yet he said even if he had seen the email (many phone networks were down at the time), no one could have likely prevented the subway suicide blast. It takes at least 30 minutes to evacuate the metro system. The email was sent mere minutes before the bomb went of in Maelbeek. "Even if I had a stop button, which I don't," Decuyper testified, "it would have been difficult to evacuate everyone."