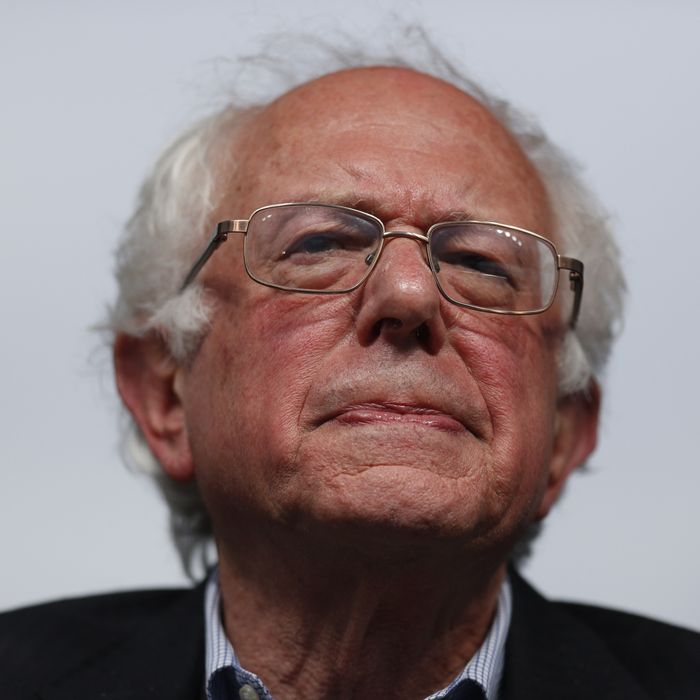 This is Bernie's 'determined' face.
Photo: Bloomberg/2016 Bloomberg Finance LP
Things went pretty much as expected in tonight's West Virginia primaries. Exactly two minutes after polls closed at 8 p.m. EST (I timed it), multiple outlets declared Donald Trump the projected winner of that state's GOP primary. With all precincts reporting, Trump holds 77 percent, which makes sense given his opponents — Ted Cruz and John Kasich — both suspended their campaigns after losing in Indiana earlier this month.
As of midnight, Trump had only been officially awarded three of West Virginia's 34 delegates, but his victory in winner-takes-all Nebraska, which was announced at 9 p.m. EST, gave him 36 additional delegates. Unless West Virginia has some strange vendetta against Trump and withholds its delegates (unlikely), Trump will only need about 100 delegates to reach the required 1,237, and a victory in California could put him over the edge well before July.
In Nebraska, with all precincts reporting, Trump is ahead of the ghost of Cruz by 43 points according to the Upshot — so much for the Cruz re-entry bid.
Meanwhile Sanders's win in West Virginia wasn't as immediate. NBC called the race for Sanders just after polls closed, but other outlets (including the Associated Press) deemed the race too close to call until almost a half-hour later. Now, with all precincts reporting, Sanders is ahead of Clinton by a tidy 15 points.
Exit polls reportedly suggested a Sanders victory early on, and Sanders ran with it, declaring himself the winner in a fundraising letter to supporters before the AP made its announcement.
"We just got word that we won our 19th state," read the email. "Every vote we earn and every delegate we secure sends an unmistakable message about the values we share [and] the country's support for the ideas of our campaign." He didn't actually mention winning the Democratic nomination in the email, but speaking at a rally shortly after his victory, he was back on message. "We are in this campaign to win the Democratic nomination," he told supporters. "And we are going to fight for every last vote." 
Independent voters largely propelled Sanders in West Virginia, but exit polls suggest the Vermont senator hasn't won them over completely — 44 percent of Sanders supporters said they would abandon him in favor of Trump in November. Only 23 percent said they'd support Clinton (she's not exactly a favorite in coal country), and 31 percent opted out altogether.
Nebraska also held a Democratic primary tonight, but it was entirely symbolic; the state's delegates were awarded after its caucus back in March (Clinton received ten and Sanders 15), but on Tuesday, voters expressed their "preference" for the Democratic nominee. Clinton carried the Cornhusker State, winning 59 percent of the vote to Sanders's 40.
Despite Sanders's victory Clinton is still on track to win the Democratic nomination, but this recent string of small losses could dampen her momentum heading into the general election.