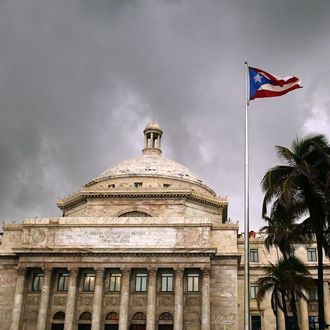 Paradise bankrupted.
Photo: Joe Raedle/Getty Images
Congress may actually make itself useful: Speaker Paul Ryan and the Obama administration have reached a deal to address Puerto Rico's debt crisis. According to Politico, some details are still being "worked through," but Republican Congressman Rob Bishop, who has been leading the negotiations, says, "We are moving forward — there is a deal."
Ryan declared the island's multibillion-dollar debt problem a top congressional priority, shortly after assuming the Speakership last fall. But earlier agreements were met by opposition from both sides of the aisle. Republicans got spooked after a dark money group spent hundreds of thousands of dollars branding any deal that restructures Puerto Rico's debt as a "bailout." In fact, the House has never considered alleviating Puerto Rico's debt burden with taxpayer funds. Instead, past and current legislation merely aims to restructure the territory's debt so that it's actually payable: You can't collect money from an island of broke, starving people. Thus, it's in the interests of most creditors to get Puerto Rico's debt load down to a point where it can still fund the basic services necessary for economic growth.

But some creditors with low-priority debt are likely to lose out on any restructuring agreement. And they're paying former Republican Congressman Connie Mack to put the fear of God (and/or primary challenges) into any conservative who signs onto Ryan's compromise.
Democrats, meanwhile, objected to a provision that would lower Puerto Rico's minimum wage to $4.25 an hour for workers 25 and under. According to Politico, that piece of the bill is likely to remain in the final agreement, at least in some form. The other central points of contention have to do with composition and powers of the board that will oversee negotiations between creditors and the Puerto Rican government over debt-restructuring. Republicans are pushing for a measure requiring the board to be named by January 3, so as to eliminate the risk of a Democratic Congress picking a more liberal board after November's election.
The new agreement is likely to enjoy support from a majority of creditors and a desperate Puerto Rican government. But it's not clear whether that will be enough to quell Republicans' fears of signing a bill that some future primary opponent could brand as a "bailout" for "foreigners."