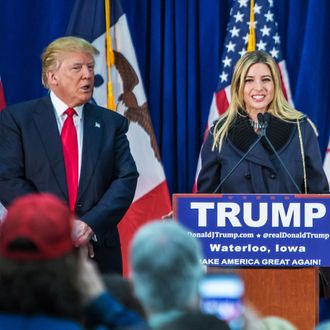 Short of running with a member of his own family, Trump's veep options are not great.
Photo: Brendan Hoffman/Getty Images
As Donald Trump plans his reality-TV convention, he will need to begin focusing on a related set of decisions: Whose name will join his on all of those red-white-and-blue balloons and signs that will festoon Quicken Loans Arena in July?
The analytical team at Larry Sabato's Crystal Ball has the first comprehensive look at Trump's options today. While they don't set odds, they do offer the mogul some advice, using the analogy of the temptation NFL teams felt to choose Johnny Manziel — the former Heisman Trophy winner whose pro career has turned into a Dumpster fire — in the draft a couple of years back. 
Trump could obviously go any number of ways on his vice-presidential pick. His instincts, to the extent that we (or anyone else) can understand them, probably will push him in the direction of an attention-grabbing pick — the Manziel-esque pick. But a better option would probably be a safer, more substantive selection.
But most of the "safer, more substantive" selections Sabato & Co. identify are either people who value their political ambitions too much to risk investing them in the Trump bubble (Marco Rubio, Scott Walker, Nikki Haley, Susana Martinez), or differ materially from Trump and most of the rest of the GOP on hot-button cultural issues like abortion (Scott Brown, Shelley Moore Capito). On this last note, it's important to remember that delegates bound to Trump by primary and caucus results are not bound to vote for his veep choice. In 2008 John McCain was dissuaded from choosing Joe Lieberman as his running mate in part because the convention was likely to revolt against a pro-choice candidate on the ticket. Trump has significantly less reason to think a convention stuffed with Cruz supporters will loyally go along with a running mate who is heretical on issues of urgent concern to the party base. 
Another potential veep with some real positives is Ohio's Rob Portman, who could legally continue his current reelection campaign while being on a national ticket. But previous veep candidates who ran simultaneous down-ballot campaigns (e.g., Paul Ryan, Joe Biden, and Joe Lieberman) were sure winners; Portman is in a dog fight with former governor Ted Strickland. A Senate reelection candidate who isn't going to risk a seat by running on the national ticket is GOP Establishment darling John Thune of South Dakota.
But alas for Trump, Thune is pretty boring, and the same concern extends to some others on the Sabato list like Oklahoma governor Mary Fallon. Still others (freshman senators Joni Ernst of Iowa and David Perdue of Georgia) have neither the experience nor the pizzazz to add much. I mean, yes, Ernst transfixed Iowans with her hog-castration-themed Senate campaign in 2014, but a Trump campaign already accused of being lightweight probably doesn't need Ernst's particularly acute lack of substance. Perdue needed an insanely pro-Republican year in red-state Georgia to overcome questions about his own business career, which, again, is not an attack line Trump would want to reinforce. 
If, as reported, Trump wants to make the announcement of his veep an important part of his convention extravaganza, a safe-but-boring choice just won't work. But the current betting favorite, Newt Gingrich, presents the opposite problem: a man with an ego that rivals the Donald's, and nearly as much baggage. 
You have to figure what Trump really wishes is that he could be his own running mate. For that reason, what may have flickered across his devious mind is an idea that one of his role models, George Wallace, deployed in 1966 when he was barred by state law from a second consecutive term as governor: running his wife, Lurleen.
Presumably Melania Trump should not be placed in the line of succession to the presidency since she was born in Slovenia — much as it might be interesting for a nativist, birther presidential candidate to run with a naturalized immigrant. But as it happens, his daughter Ivanka will turn 35 shortly before Election Day, making her eligible for the gig. 
There's something about a Trump-Trump ticket that seems just right, and certainly more honest than any of the alternatives.