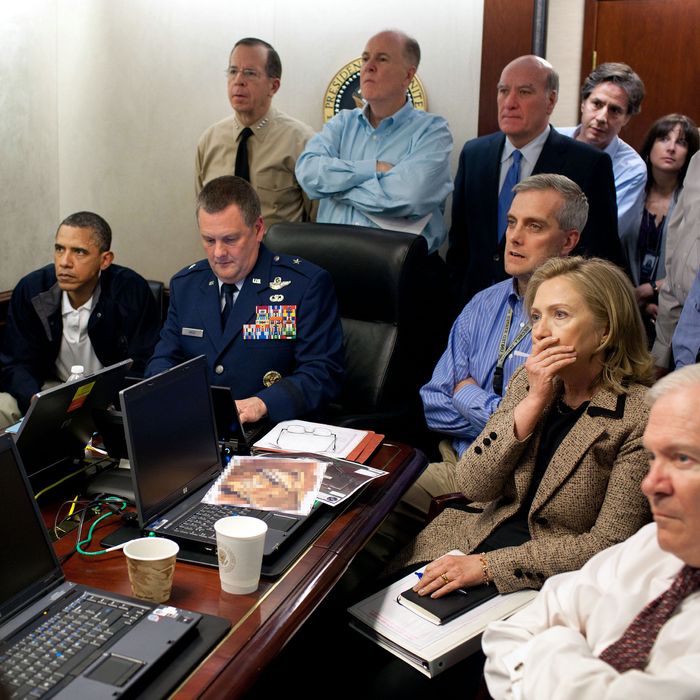 Photo: Pete Souza/The White House via Getty Images
This past Sunday marked the fifth anniversary of the special-forces raid that killed Osama bin Laden. And to commemorate (celebrate?) the occasion, the CIA "livetweeted" it:
The entire series appeared under the hashtag #UBLRaid. It was odd, to say the least, and not at all well received elsewhere on Twitter. A CIA spokesperson told ABC that "it is appropriate to remember the day and honor all those who had a hand in this achievement." Sure, but … on Twitter?
Tweeting the raid in real time is the kind of endeavor that's easy to sell in a bad meeting. It sounds cool. You can imagine a PowerPoint presentation about social-media strategy where "livetweet UBL raid" is one bullet point in a sea of other bad and halfhearted ideas. It shows off the human side of the CIA! It meets the young and tech-savvy on their home turf! It helps the agency shed its stodgy, conservative image!
At the same time: Who wants this? Who, really, is looking to the CIA Twitter account for this? If you want information about the raid, here's a whole web page. I cannot fathom who wants to read through a minute-by-minute summary of a news event — especially a targeted assassination in the dead of night — peppered among Crying Jordan memes and sports Vines. Even ardent supporters of the agency and its particular variety of statecraft seem unlikely to be desperate for a new social-media-friendly CIA brand.
Sometime in the last half-decade it became conventional wisdom that institutions should have social-media presences. But that's an idea born out of consulting fees, not wisdom. Not everything needs a Twitter, and especially not the Central Intelligence Agency. The CIA doesn't have page-view targets to meet or customer service to perform. It's not chatting with friends or following news. It doesn't even have announcements to make to the public. There is an opportunity for the government to use social media to increase transparency, like San Francisco's public transit system did back in March. But the CIA has never been and is not currently an organization particularly interested in fully disclosing itself to the public.
Just under two years ago, the CIA launched its Twitter account with a Glomar response. At the time, a spokesperson explained that "The vast majority of our posts are educational – both in tone and content – but we're attempting to do this in a manner consistent with the culture of these various social media platforms, which includes the occasional light-hearted or humorous posting."
But no one has been crying out for a lighter-hearted CIA. Neither its critics nor its supporters are interested in a CIA with a sense of humor. Who is thirsting for a CIA spokesperson to joke about Tupac's death? What does that achieve other than self-created goals about social-media engagement? Why does the government agency responsible for botched coups and installing brutal dictatorships need to have a human(ish) presence? The answer: It doesn't — the CIA's Twitter both de-emphasizes the seriousness of the agency's work and underestimates its audience's tolerance for disingenuous PR moves. The best way for the CIA to be consistent with the culture of Twitter would be for it to delete its account.