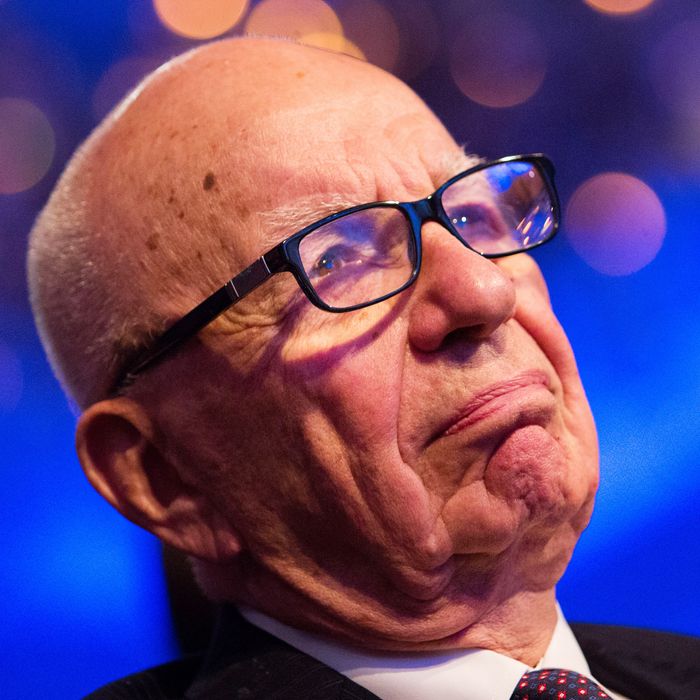 I think I fancy Donald.
Photo: Drew Angerer-Pool/Getty Images
Call it the media equivalent of Bobby Riggs vs. Billie Jean King: Tonight, Donald Trump finally sits down with his Fox News nemesis Megyn Kelly. The battle between Trump and Fox's biggest star has been one of the most compelling story lines of the 2016 election, and the subject of much discussion in the run-up to Kelly's prime-time broadcast special with the GOP frontrunner. But in all the coverage of the Trump-Kelly détente, a more important development has been overlooked: Trump has made peace with Kelly's boss's boss, Rupert Murdoch.
According to a half dozen sources familiar with Murdoch's thinking, the media mogul has signaled he plans to fully back Trump in the general election against Hillary Clinton. Murdoch's embrace of Trump is a sharp reversal from the hostile view he held over much of the past year. In fact, according to one high-level Fox source, it was Murdoch himself who directed Kelly to hammer Trump during the debut GOP debate, in Cleveland, that sparked the feud in the first place. "Rupert told her to do that," the source said.
The Murdoch-Trump alliance is the result of at least two private meetings between the billionaires this spring as well as phone calls from Trump's son-in-law, Jared Kushner. Murdoch's view, according to those who've spoken with him, is that Trump is a winner whom the "elites" failed to take seriously. "He doesn't like people to be snobs and treat Trump like a clown," one person explained. Murdoch's outlook is also informed by his take on the winnowed GOP field. When it came down to the final three candidates, Murdoch simply saw Trump as the best option. "He never liked Cruz," the source explained. Kasich made a personal pitch to Murdoch that he could win on a second ballot at the convention, but failed to persuade. In March, Murdoch tweeted that the GOP would "be mad not to unify" behind Trump.
Spokespersons for Murdoch and Trump did not respond to requests for comment.
That Murdoch flip-flopped on Trump shouldn't be all that surprising. Yes, Trump's stances on immigration and trade clash with Murdoch's more moderate views (he's for comprehensive reform and trade deals). But throughout Murdoch's career, he's sacrificed core principles to forge political alliances that advance his media empire's interests (after all, he backed both Margaret Thatcher and Tony Blair in the U.K.).
And it's clear Trump is good for business. According to one Fox News producer, the channel's ratings dip whenever an anti-Trump segment airs. A Fox anchor told me that the message from Roger Ailes's executives is they need to go easy on Trump. "It's, 'Make sure we don't go after Trump,'" the anchor said. "We've thrown in the towel." Similarly, the New York Post has staked out a pro-Trump position in the marketplace while its rival the Daily News remains one of Trump's loudest critics. The Post endorsed Trump last month and dubbed him "King Don!" after he won the New York primary. (The outlier among Murdoch's properties is The Wall Street Journal. "They're stupid people," Trump told me back in March).
Murdoch's strategy seems to be a win-win. If Trump gets into the White House, Murdoch will likely have an open line to the new administration (at least as open as anyone can have with Trump). And, if Trump loses to Hillary Clinton, then Murdoch's right-wing outlets have a ready-made enemy to beat up on for the next four years. That's a deal Trump can surely respect.