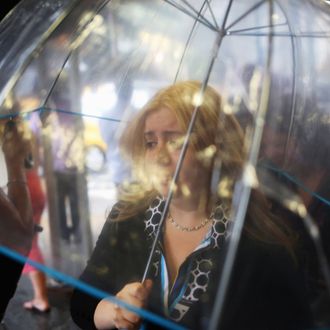 Man, we feel you.
Photo: John Moore/Getty Images
Let's get this out of the way: You've got to keep lugging that umbrella around. This stretch of seemingly interminable rain is pretty much going to last through the weekend — in fact, the threat of showers exists literally every day through Sunday. Just look:
Blame this miserable March throwback on a low-pressure system that refuses to leave. If it's not raining, gray clouds will hover overhead, keeping the city damp and cool. Temperatures during the workweek probably won't break the high 50s — about ten degrees cooler than the average highs during the first week of May. The sun may poke through time and again, but that's about the best the atmosphere can offer. Heavy showers will probably return Friday. Then a cold front will return to bring "a round of showers for the second half of the weekend," says the National Weather Service.
Meteorologists are trying to soften the blow by reminding us that, actually, New York really, really needs the rain. The city and surrounding suburbs are currently "abnormally dry," with Central Park receiving close to three fewer inches than its average rainfall totals in April. 
Hope arrives in the form of sun and warmer weather (think 70s) early next week, but according to AccuWeather, the New York area is likely to see precipitation once again midweek, because nothing good ever lasts.