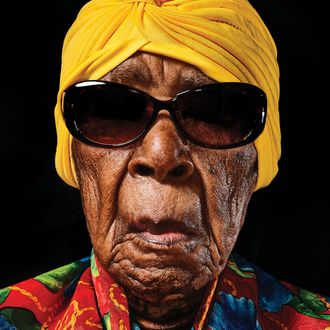 Susannah Mushatt Jones.
Photo: Bobby Doherty
The oldest person in the world, who also happened to be a Brooklynite, died at 116 at her senior home Thursday night. Susannah Mushatt Jones was born July 6, 1899, and was the only American still around who'd lived in the 19th century.  
Jones, whom New York featured in the magazine last year, was born in Alabama to a tenant farmer and was one of 11 siblings. From the article: 
Jones graduated from high school in 1922 and came to Newark, New Jersey. She worked as a nanny and a housekeeper there, and later in Westchester. She briefly married in 1928. She lived in Harlem for a bit, and continued working until 1965. She went back to Alabama after her retirement, and then returned to New York for good.
Jones moved to her senior home in Canarsie at 80. She's outlived all of her siblings. By 100 she'd given up cooking and her neighborhood-watch duties. At 116, she slept a lot and had some hearing problems, but: 
… She still loves her bacon — four strips, every morning, eaten with gusto. Has a pretty good appetite, in fact. Chews Doublemint gum. Her hair, long since turned white, has come in brown again. She voted for Barack Obama, twice. (A birthday letter from him hangs on her wall.) 
Jones cedes the title of world's oldest person to Emma Morano, from Italy, who was born on November 29, 1899. At just a few months younger than Jones, she's the oldest in Europe and the last person born before 1900 now left in the world. Morano credits her long life to three raw eggs a day and "being single for most of her life."