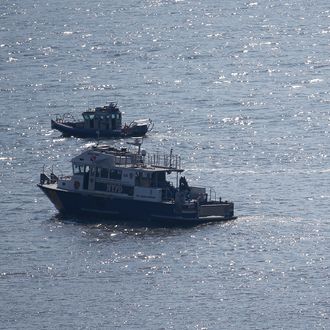 NYPD boats operating near the scene of the crash.
Photo: Julio Cortez/AP
A World War II-era P-47 Thunderbolt fighter plane crashed into the Hudson River two miles south of the George Washington Bridge on Friday night, killing its pilot. The Associated Press reports that the vintage single engine P-47 was taking part in a promotional photo shoot for Long Island's American Airpower Museum, which owned the plane. The museum is hosting an air show and celebration of the 75th anniversary of the P-47 this weekend. According to witnesses, the plane was flying low over the Hudson when it suddenly titled down and splashed into the water at about 7:30 p.m. NBC News reports that some witnesses saw the pilot try to escape the plane, but he was apparently dragged underwater as it sank. Though at least one bystander on a nearby boat dove into the river to try and rescue the man, he did not survive the crash and his body was later recovered by police divers. The pilot, later identified by authorities as 56-year-old William Gordon, was a 25-year veteran of air shows, and was even an "aerobatic competency evaluator" who certified other pilots to perform low-level maneuvers. Two other planes that were flying with the P-47 were able to safely return to Republic Airport in Long Island. 
ABC News says that a distress signal was issued by the pilot, and the American Airpower Museum has now said that the plane suffered some kind of mechanical failure, causing the pilot to try and ditch in the Hudson. The exact cause of the crash is still being investigated, and authorities are expected to work on removing the wreckage from the river on Saturday. The plane was one of a limited number of surviving P-47s that are still airworthy, and had been used periodically in airshows over the years and had even flown twice earlier on Friday without incident. The Thunderbolt was the heaviest single-engine fighter plane to be used in World War II, and was widely praised for its performance. Some 9,000 of the planes were manufactured in Long Island.
The plane can be seen splashing into the water in these videos:
More images and videos of the aftermath: