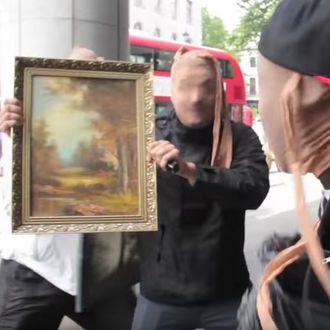 Last July, three men working on the YouTube channel Trollstation (great name) pretended to rob multiple art galleries in London, running around with stockings to hide their faces and holding fake paintings. Another two, according to The Guardian, "took a speaker system that let off alarm sounds" into a gallery and filmed panicking visitors.
Four of those men — Daniel Jarvis, Ebenezer Mensah, Helder Gomes, and Endrit Ferizolli — were sentenced to jail terms ranging from 16 to 20 weeks after admitting to "two counts of using threatening or abusive words and behaviour causing fear of unlawful violence" in London court today.
The fifth man, Danh Van Le, had been sentenced to 24 weeks in Jail back in March for another YouTube prank in which a minor dropped ticking suitcases next to people waiting at a bus stop in order to make them panic.
Trollstation (again, a perfect name indicative of quality) claims to be the United Kingdom's most popular prank channel with 718,000 subscribers. Throughout the day, the group has been retweeting people angry about the verdict.