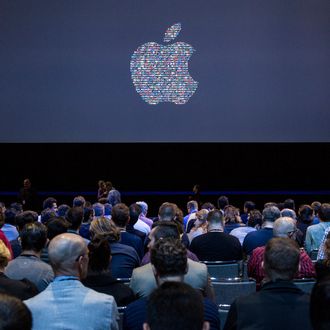 Photo: Andrew Burton/Getty Images
Apple kicked off its annual Worldwide Developers Conference today in San Francisco. While much of the keynote was geared heavily toward developers, both seasoned and just starting out (looking at you here, 9-year-old girl in the audience), Apple announced several new changes that are going to change the way you use your iPhones, iPads, Macs, Apples TVs, and Apple Watches. Here are the top ten.
1. Siri will now be available to drive you crazy on your Mac. With macOS Sierra (the artist formerly known as OS X), you'll be able to ask Siri questions and give commands right from your desktop. Other features include searching for files, playing music, and cursing at her just to hear her response.
2. Your Mac will be better optimized for storage. This means fewer notifications that your startup disk is "almost full." MacOS Sierra will let you program your device to delete unwanted items (like the trash you forgot to delete two months ago) and automatically store others in the cloud to free up space. Apple's demo showed a MacBook going from 20 gigabytes of free memory to 150 gigs, just by deleting junk.

3. Apple Watches are going to get faster and easier to use. Apps on the device now work seven times faster than before. And a new Scribble feature will let you respond to messages by writing your note on the device. (Which is a lot less awkward than dictating into your wrist.) And if you also own a MacBook, you'll now be able to unlock it using your Apple Watch instead of typing a password.
4. Apple-TV users only need to remember one password. A feature called "single sign-on" means you won't have to go through the 19 steps of configuring a video channel, like Disney or ESPN, wherein you have to input a password, and a code — and the process usually involves breaking out a second device like a computer or phone. The new feature (which raised one of the day's largest rounds of applause) lets you sign in once on your Apple TV and then you're good to go for all of your network apps.
5. Sending iMessages just got a whole lot more animated. Literally. Under iOS 10, you'll be able to automatically replace words with emoji, send message bubbles that shake or explode into fireworks, and even include handwritten doodles. (Read more about all these new features here.)
6. For better or worse, your lock screen will display tons of information before you even press a button. A new "raise to wake" feature will, as the name implies, awaken your device anytime you pick it up. You'll be able to see notifications, likes calendar alerts and texts. If you're using a 3-D touch-enabled device, you'll be able to reply to messages and clear all notifications from the lock screen. (The rest of us will have to do it the old-fashioned way, by unlocking our phones and tapping a whole four times.)
7. Never listen to another voice mail. Apple is enabling voice-mail transcription with iOS 10. Which is great if you're a) lazy or b) really lazy. The iOS 10 update also comes with spam-caller detection, so, ideally, you should get fewer calls telling you you've just won a free cruise!
8. Apple Music has some new features that should make it easier to use. The app has been updated to include "downloaded" and "recently added" sections to help you find your music. You'll be able to see onscreen lyrics for the song you are listening to, while everyone's least favorite feature, Connect, has been tucked away under a new "For You" tab.
9. You'll be able to buy things using Apple Pay on your Mac. Though you'll still need either an Apple Watch or an iPhone to complete any transactions, this saves you from having to type in a credit-card number ever again.
10. After years and years and years of complaints, it looks like you'll finally be able to delete the Stocks app. With this iOS update it appears default apps are no longer being packaged with the operating system. Which means you'll probably be able to say good-bye to Stocks, Mail, Notes, and any other app you might not want taking up space on your phone. (Read more about that here.)