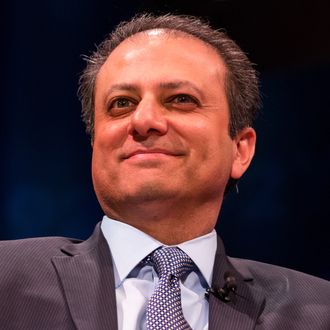 Preet Bharara announced charges today.
Photo: Michael Nagle/Bloomberg via Getty Images
The FBI's city corruption investigation has now snared three high-ranking New York City police officers and one businessman who is also a former fundraiser for Mayor de Blasio. The four men, who were arrested in early-morning joint FBI-NYPD raids, are accused in gifts-for-favors schemes. The NYPD officers apparently took advantage of expensive trips — including a 2013 round-trip flight on a private jet with prostitutes to Las Vegas during Super Bowl weekend — meals, jewelry, sporting events, and other perks in exchange for doling out official benefits, such as providing NYPD security escorts and patrols and fixing tickets. 
Two businessmen allegedly showered the officers with these presents: Jeremy Reichberg, who was taken into custody Monday, and Jona S. Rechnitz, who apparently is cooperating with authorities after pleading guilty to corruption charges in a separate bribery scheme involving Norman Seabrook, the former head of the corrections' officers union, and a hedge-fund manager. (Seabrook and hedge-fund manager Murray Huberfeld were arrested on federal fraud charges June 8.) Both Reichberg and Rechnitz are big de Blasio donors who served on his inaugural committee. De Blasio, who has not been accused of any wrongdoing in the many probes swirling around his administration, has tried to distance himself from both men. He returned the donations from Rechnitz and his wife, and said he was "not particularly close" with either of the men, whom the mayor says he met in 2013.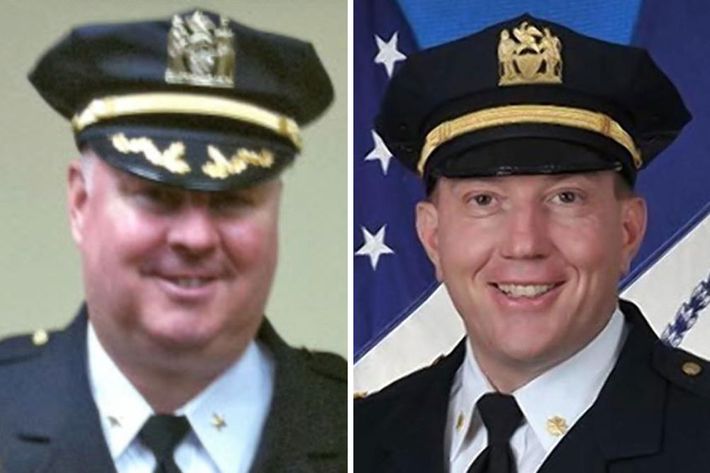 The two NYPD officers accused of taking these free luxury trips and other fancy handouts are Deputy Inspector James Grant, who was formerly head of the 19th Precinct on the Upper East Side, and Deputy Chief Michael Harrington, who was second-in-command in the Housing Bureau. According to the criminal complaint, Reichberg and Rechnitz delivered more than $100,000 worth of gifts and services to Grant, Harrington, and other cops. In return, those officers were "effectively … on call —  ready and willing to use their official authority within the NYPD to provide assistance on an as needed basis … including police escorts for them and their friends, assistance with private disputes and investigations, police resources for security at religious sites and events, and the ability to get out of tickets or other infractions, and special access to parades and other cultural events."
Among those perks was the closing of a lane in the Lincoln Tunnel, per Reichberg's request, to a visiting foreign businessman: 
This investigation into these misconduct allegations stretched back as far as 2014, according to the criminal complaint, which details the brazen quid pro quo. The police officers became world travelers on Reichberg's and Rechnitz's dime. Grant's $60,000 private round trip to Las Vegas with a prostitute who, according to the complaint, stayed in the officer's room (also paid for by the businessmen) was just one of those over-the-top expenses. Rechnitz also gifted Grant a $1,000 hotel stay in the "most luxurious hotel in Rome" while Grant was on a family vacation in Italy in 2013 and Harrington a $6,500 hotel stay in downtown Chicago.
Grant got home improvements, including new railings and window replacements. Grant's family even got gifts when, in 2013, "two elves" — Reichberg and Rechnitz — showed up on Christmas to deliver a video-game console to the kids and jewelry to Grant's wife. But the following holiday season left Grant disappointed: "The two elves didn't come for fuckin' Christmas," he complained to Reichberg over the phone.
Reichberg and Rechnitz also funneled tens of thousands of dollars to Harrington's family business — a private security firm that Harrington also helped run, per the criminal complaint. Harrington also got free tickets to Brooklyn Nets and New York Rangers games. 
Sergeant David Villanueva, the third officer caught up in the probe, belonged to the NYPD's gun-licensing division and is accused in a related scheme of apparently pushing through gun licenses in return for bribes involving another businessman, Alex "Shaya" Lichtenstein, who was arrested in April on federal corruption charges. According to the complaint, Villanueva pushed applications brought to him by Lichtenstein and his associates — without the necessary background checks — in exchange for cash and liquor. Those approved for gun licenses include a person who had previously been arrested for bribing a public official and another arrested for forgery and domestic violence. A fourth NYPD officer who worked in the gun division, Richard Ochetal, has allegedly already pleaded guilty to corruption charges, and may have received some cut of the bribes. Ochetal, according to U.S. Attorney Preet Bharara, is cooperating with authorities. 
All three NYPD officers arrested Monday had been disciplined internally by the NYPD before these criminal charges were announced.
Bharara formally announced the charges against the four men Monday afternoon, joined by NYPD Commissioner Bill Bratton. Bharara alleged that Reichberg, who identified himself as a "police liaison," and Rechnitz (whom he did not mention by name) essentially leveraged a "police force on call." 
Bratton also addressed the charges, saying the probe began as an internal investigation about three years ago. Bratton argued that this was the handiwork of a couple of corrupt cops, and said their arrests were signs that the "system worked."
Bharara, once again, gave a showman's sign-off with a bit of a dramatic cliffhanger: 
This post has been updated to include new details from the criminal complaint, and Bharara's press conference.