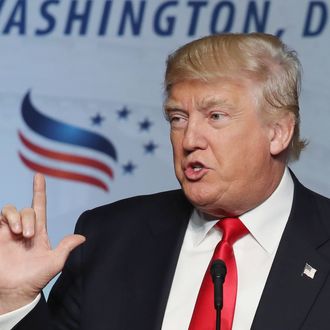 Losing bigly.
Photo: Mark Wilson/Getty Images
Donald Trump isn't good at this. More than a month after becoming the GOP's presumptive nominee, the mogul's approval numbers are in free fall. The latest Washington Post–ABC News poll finds Trump's favorability falling 8 points to a piddling 29 percent, while the percentage of Americans holding an unfavorable view of him has increased by 10 to 70 percent.
It's not just that Trump has alienated every single Hispanic in the United States — although he nearly has, with 89 percent of the demographic disapproving of the Republican nominee. The mogul's negative ratings have also jumped by double digits in the last month among liberals, conservatives, Republican women, Democratic men, independents, and even non-college-educated whites.
The latter are supposed to be the core of Trump's support. Every theory of how Trump can actually win the White House relies on him outperforming Mitt Romney with this constituency. And as of May, it was one of the few demographics to approve of the GOP standard-bearer, giving him a plus-14 net favorability rating in the Post–ABC News poll. Now that figure is minus-7.
To be sure, the Democratic nominee is not widely adored. In fact, Hillary Clinton hits her own record unfavorability number in the same poll, earning the disapproval of 55 percent of the American public, up from 53 one month ago. But, while historically high, this number is still far smaller than her general-election rival's. And at least part of her weakness is a product of her more recently concluded primary fight. Currently, 25 percent of Democrats disapprove of their nominee, including 31 percent of those under 50, a demographic that favored Bernie Sanders in the primary. As Clinton puts distance between herself and that race — and perhaps, eventually, secures Sanders's endorsement — you'd expect her standing with Team Blue to improve.
Even though Clinton's current unfavorability persists, she's still in line to win enough "hold your nose" votes to take the White House. A Bloomberg poll released Tuesday showed Clinton boasting a 12-point lead over her Republican rival.
It's certainly possible that Trump will experience a rebound. Few presidential candidates have ever had a worse month than the GOP nominee just put together. One minute Trump appeared to be shirking on promised donations to veterans groups; the next he was trying to divert attention from revelations of Trump University's myriad predations by making racist attacks about a federal judge. And, seemingly every day, a major American newspaper published a new exposé about the wildly unethical business practices that have allowed the real-estate heir to retain a portion of his inherited fortune.
But one week after Trump stopped talking about Judge Gonzalo Curiel's Mexican heritage — and started exercising a bit more message discipline by reading major speeches off a teleprompter — he's still giving his Republican colleagues new statements to condemn. Since the Orlando shooting, the GOP nominee has insinuated that the sitting president may be secretly sympathetic to the aims of ISIS, recentered his general-election campaign on a Muslim ban opposed by his party's leadership and the majority of the American public, and, just last night, appeared to deride American soldiers as thieving scoundrels.
At a rally Tuesday night, Trump bemoaned America's failure to confiscate Iraqi oil after the invasion, then lamented all the resources we wasted in trying to rebuild the nation.
"Iraq, crooked as hell. How about bringing baskets of money — millions and millions of dollars — and handing it out?" Trump said. "I want to know who were the soldiers that had that job, because I think they're living very well right now, whoever they may be."
Trump's campaign insists the candidate was referring to Iraqi soldiers. But typically, when American politicians refer to soldiers and use no modifier, they're talking about our troops. And, in point of fact, some American soldiers did steal relief money in Iraq. But why a Republican nominee would find it politically useful to reference this ugly bit of history — apropos of nothing — is a mystery.
Unless, of course, he just isn't very good at running for president.