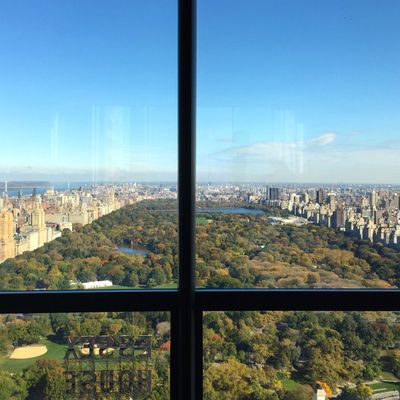 The view from One57.
Photo: S. Jhoanna Robledo
Not since the skyscraper boom of the Jazz Age has New York's skyline undergone a transformation as it is now. More than two dozen supertall towers — and counting — are in some stage of planning or construction, and not just for Billionaire's Row. These slender 800-plus-foot cloudbusters are springing up in the Flatiron, the Financial District, the Far West Side, and even Downtown Brooklyn and Long Island City. How long before they start sprouting in Riverdale or Tottenville?
How about next week?
That is the fear that erupted after a legislative package came to light in Albany this week that would remove restrictions on the size of residential buildings in the five boroughs. The bills, quietly introduced by Brooklyn Senator Simcha Felder and Harlem Assemblyman Keith Wright, would remove a 1961 density cap placed on residential buildings. Under the new rules — which could be passed before the session ends next Friday — residential buildings in most of the city could be far bigger than they are now. And the biggest backer, besides Big Real Estate, is Mayor Bill de Blasio himself.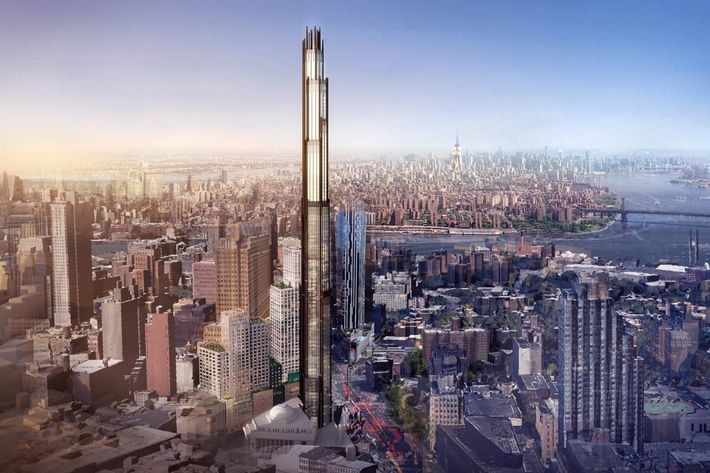 The rule change is subtle, affecting the formula called floor-area ratio, or F.A.R., that is used to compute the bulk and size of any building. Right now, residential buildings can have an F.A.R. of up to 12: A 5,000-square-foot lot, say, can be occupied by a 60,000-square-foot building, which usually works out (because of space set aside for setbacks, plazas, and so forth) to 20 to 25 stories.  Residential buildings' F.A.R. is capped by state rather than city law, and has been since 1961, when it was not only written into the zoning code but also enacted in Albany to ensure that it would stick. 
The bill as introduced in the Assembly and Senate would eliminate that limit, although developers would have to get anything above 12 approved by the Department of City Planning (as well as the City Council, where public outcry might try to limit things again). That could mean a 40- or 50-story building, or even more, on that same 5,000-square-foot lot. (Yes, we already have residential buildings that are far taller, but building those has required special horse-trading moves, like acquiring the rights from several structures and bundling them.) Many neighborhoods have absolute height restrictions set by the city, but some, like Midtown and Downtown Brooklyn, do not. The de Blasio administration argues that by lifting the cap, developers will be willing to introduce public benefits in their projects, like affordable housing, open space, or infrastructure investment. 
On The Brian Lehrer Show Friday morning, de Blasio defended both the bills and his administration's push for bigger buildings — all through his typical lens of expanding affordable housing at nearly any cost. "There are places where we can appropriately build taller," Mayor de Blasio said. "There are some specific districts that are already very highly built up, for example Midtown Manhattan, where there's an opportunity to do some more, and to include affordable housing. This is something that is very specific to certain districts that are very dense." Under the new rules passed earlier this year, any public review at the City Planning Commission triggers the mandatory-inclusionary-housing policy, which stipulates that 20 to 30 percent of a building be affordable if a development bonus is sought. 
Now, 40 or 50 stories is still not very big for New York these days, and considering the mayor's argument, big is good; people, and lots of them, have to live somewhere. And what the advocates seem to ignore is that the state is raising its cap on buildings, but the city is not. Every single neighborhood, and every single block, would still be governed by the city's existing zoning code. Skyscrapers buildings will not suddenly start springing up on Pineapple or Cranberry Streets in Brooklyn Heights—partly because those are historic districts, and partly because the neighbors would scream bloody murder. Still, the cap was there for a reason, and removing it would indeed remove one more roadblock to denser development.
What it does mean, though, is that developers are likely to propose buildings larger than 12 F.A.R. in neighborhoods that have never seen them before, through rezonings and the like. When this happens, the new mandatory inclusionary housing rules passed in March would kick in. So we get towers, but we also get towers with more affordable housing. It's a tradeoff the mayor is prepared, even eager, to make. "Now that there's a requirement for affordable housing in these new types of developments, it's a much better equation for New York City," he told Brian Lehrer.
The question of whether we ought to be building bigger and denser is a flashpoint among city planners, and city dwellers, right now. We all wring our hands over the unaffordable city; we also tend to be skeptical of the very construction that will, at least in theory, add apartments and ease the lack of supply. Groups like the Municipal Art Society support both reforms to the zoning code and expanded density in the city, but they fear that the development taking place now is too unconstrained. Raising the density cap without careful consideration will only exacerbate that. Giant glass slabs marching up a narrow street are not the sidewalk ballet we idealize. But neither is a low-scale street that looks lovely but is too expensive for any tenant except a designer boutique.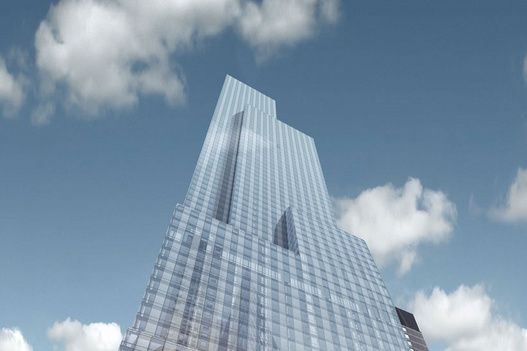 "Much ado about nothing" is how Vishaan Chakrabarti, founder of the Partnership for Architecture and Urbanism and former director of the Columbia University's Center for Urban Real Estate, describes the proposal. "Density is fine if it is in the right place (near transit), is designed well, is responding to social needs, and has a relationship to the fabric of New York City. If it can't meet those tests, not sure it belongs in our city regardless of its scale." 
While these new buildings may be impossible to miss, the changes making them legal were, to say the least, stealthy. "This seems to be the M.O. these days, where people don't talk about things, they just push them through," Gina Pollara, president of the Municipal Art Society, said. "This needs a thorough discussion. Lifting the cap would mean more buildings for some of the most crowded places on the planet." It's shaping up as yet another fight—as with the MTA and the schools—over home rule between New York City and Albany. "We should let the municipal government control its land use and development patterns, and it is shocking that Albany exerts this much authority over our future," Mitchell Moss, the N.Y.U. planning professor, said. "New Yorkers should put their faith in their municipal government."
Some of those New Yorkers in Albany do not share that faith. A group of lawmakers, mostly from the city, have risen up in opposition to the legislation in recent days. While the administration remains supportive of the proposal, it now looks like it will have to wait for the F.A.R. caps to be lifted until another legislative session. "Like everything that happens in Albany, this was being done at the last minute, out of nowhere, with no discussion," State Senator Liz Krueger said. "And big real estate gets exactly what it wants, and the community loses."