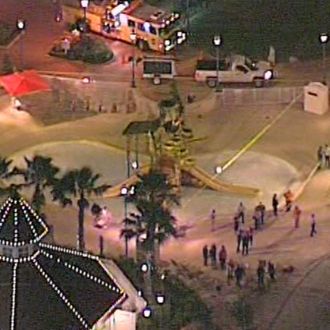 An area near where an alligator dragged a 2-year-old boy into the water by Disney's upscale Grand Floridian Resort & Spa in Orlando.
Photo: Courtesy WKMG
Another tragedy has punctured the Orlando community, this time after an alligator snatched a 2-year-old boy from the shore of a lagoon at Disney World's Grand Floridian resort Tuesday night. The reptile pulled the boy into the water, and search and rescue teams have been scouring the manmade lake, but so far they haven't found the toddler or the animal.
The Nebraska family of four had traveled to Disney World Sunday. The boy, his 4-year-old sister, and his parents were hanging out at the resort's Seven Seas Lagoon Tuesday evening. The 2-year-old boy was wading in the water, close to the shoreline, when the alligator swam up and dragged him away. The boy's father tried to wrestle the alligator, but he could not wrench his son away from the creature, which disappeared under the water. The family alerted the lifeguard shortly after 9 p.m., according to the Orlando Sentinel, and authorities soon swarmed the scene.
Teams from the sheriff's department, Florida Fish and Wildlife Conservation Commission, and Disney cased for the boy and the alligator — believed to be between four and seven feet long — by boat and by air overnight, across the span of the 172-acre lake, says the New York Times. The search continued Wednesday morning. Officials found and trapped four alligators, each of which was euthanized and tested, but none turned up clues that it might have attacked the boy. Officials were still calling it a rescue operation Wednesday, but the mood among the authorities was decidedly grim: "We're not likely now to find a live body," the county sheriff said.
According to the Sentinel, no signs near the lagoon warn about potential gators, but they do instruct vacationers that swimming is prohibited. Disney has never recorded an attack or incident with an alligator at the Seven Seas. Officials say that they had no reports of an aggressive alligator prior to the attack, and that these types of maulings are still very rare. A swimmer was ambushed and killed by an alligator in 2015, but that was a Floridian's first deadly encounter since 2007. 
Update: Florida officials have confirmed that the body and remains of the 2-year-old boy were recovered Wednesday afternoon, around 3:30 p.m. Officials had said earlier Wednesday that there was "no question" the boy, identified as Lane Graves, had been killed. It's unclear if the alligator who snatched the boy has also been found; officials had trapped, killed, and tested five alligators by Wednesday, but hadn't seen any evidence that any of those had taken the child. Disney's beaches remain closed for now.