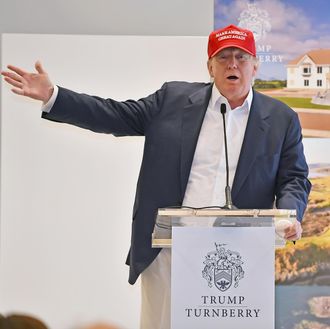 The Republican nominee at his Scottish golf resort.
Photo: Jeff J Mitchell/Getty Images
The Republican nominee often begins his speeches by emphasizing how much he enjoys not being the president. On Wednesday, Donald Trump opened his remarks on the stakes of November's election with a paean to the joys of working in a family business.
"I have built an amazing business that I love and I get to work side-by-side with my children every day," Trump said. "We think big, and then we make it happen. I love what I do."
The ostensible point of these passages is that, if the stakes of this election weren't so high — and if the country weren't in such dire need of Trump's leadership — he wouldn't have given up his life as a businessman. For the mogul, running for president is a personal sacrifice.
The trouble with this pitch is that it's in the present tense: Trump loves what he does, not what he did — because even now, less than a month before his party's convention, the presumptive GOP nominee still hasn't given up his life as a businessman. According to the New York Times, in the course of a yearlong presidential campaign, Trump has spent roughly a dozen nights away from one of his homes. Usually, he returns to his New York City apartment, which allows him easy access to his 26th-floor office in Trump Tower. While he attends to his personal business, Trump has neglected the workaday tasks of a presidential candidate, refusing to make fundraising calls on behalf of his party. And on Thursday, with his poll numbers sinking and his campaign coffers nearly barren, Trump is ditching the campaign trail to promote a golf course his company purchased in southern Scotland.
The Republican nominee will land in Scotland one day after the United Kingdom's referendum on leaving the European Union. But Trump has no plans to meet with British leaders at this historic moment in the life of a key U.S. ally. Rather, his itinerary reads, in the Times' phrasing, "like a public relations junket crossed with a golf vacation."
According to the paper, the candidate rationalizes his unprecedented business trip as a way to "reset" his campaign, by reminding American voters of his status as a successful billionaire. But a CNN-ORC poll released Thursday finds that seven in ten voters don't think a major-party nominee should be involved in business at all. According to the survey, 69 percent of voters think Trump should step down as chairman and president of the Trump Organization for as long as he's involved in politics. There is broad, bipartisan agreement on this point, with 56 percent of Republicans, 71 percent of independents, and 77 percent of Democrats saying Trump should be giving his full attention to making his campaign great again.
This finding presents an opportunity for Hillary Clinton. Thus far, the Democratic nominee has attacked Trump's billionaire persona with reference to his bankruptcies and unethical practices. These are important notes to hit in undermining Trump's status as a business genius and economic populist, respectively. But the amount of time and attention the GOP nominee has devoted to promoting his personal financial interests — combined with the fact that he has no plans to divest himself of those interests even if elected — is a subject worth dwelling on.
Whatever one thinks of Hillary Clinton, it's clear that the woman wants to be president (probably more than you've wanted anything in your entire life). The same can't be said for a man who refuses to solicit campaign donations while finding time to promote his golf courses, discuss plans for a post-campaign cable network, and muse that he might be willing to suspend his campaign for $5 billion.
The problem here isn't just the denigration of public service implicit in Trump's conduct: It's the implication that Trump might continue prioritizing his financial interests once in the Oval Office. The tycoon will not be selling off his myriad businesses upon election. Rather, he intends to turn over control of his enterprises to his children — a plan that might save him some time but would do effectively nothing to shield him from conflicts of interest while in the White House. This is critically important, because the American president is actually exempt from conflict-of-interest laws. Trump often justifies ostensibly unethical business practices by insisting on the legality of his actions. As president, Trump would be within his legal rights to make foreign-policy decisions based on how they might affect the value of his overseas holdings.
But one need not invent hypotheticals: Trump himself has suggested that the federal judge overseeing the case against Trump University ought to be "looked into," ostensibly by federal authorities. He's also used his bully pulpit to bully the PGA for relocating a tournament away from one of his golf resorts.
While making the case for her left-of-center domestic agenda, Clinton has levied a number of nonideological arguments against Trump's qualifications for high office. The fact that the GOP nominee treats his campaign like a publicity stunt is one nonpartisan point worth making.