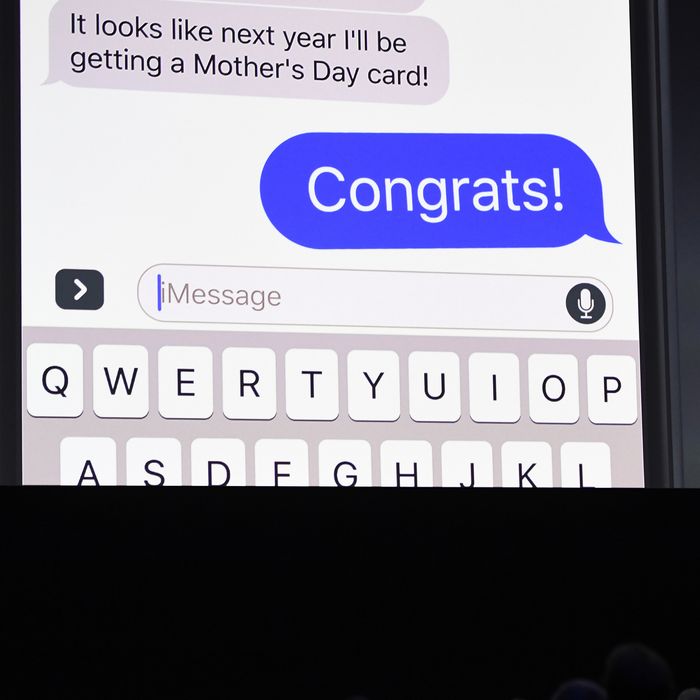 Photo: Bloomberg/Getty Images
At Apple's Worldwide Developer Conference today the company announced several big changes coming with the next release of its phone operating system, iOS. For starters, Messages is getting a very fun (and very Facebook-influenced) overhaul that gives users more ways to send texts, including video and giant emoji. (And keeps Apple competitive with Facebook's hugely popular standalone messaging service.)
IOS 10 won't be released till the fall, but here are the seven biggest changes that your friends will be irritating you with a year from now.
In a move that prompted Apple's Craig Federighi to joke that kids today will "never learn English," Apple is making it easier to turn your text messages into emoji-laden hieroglyphs. Once you've completed typing a word or message, a new feature will highlight the word that can be replaced with an emoji (a taco emoji for the word taco; the tree emoji for tree; the eggplant emoji for the word, uh, well, you get the idea). Messages containing only emoji now appear three times bigger on the app. (You are welcome, Dad.)
Bubble
Letters
and
Animation
Using preset animation options, you'll be able to add extra emotion to your messages, like an iMessage bubble the shakes to denote excitement — or that you're in the middle of an earthquake. On an even more involved — and more annoying — level, you can make a balloons float across the screen in your group chat, or write in "invisible ink," which creates a message that won't reveal itself until you swipe your finger over it. Fun!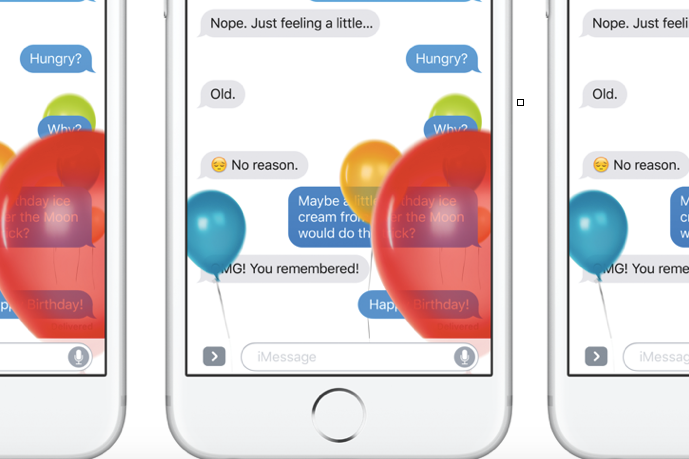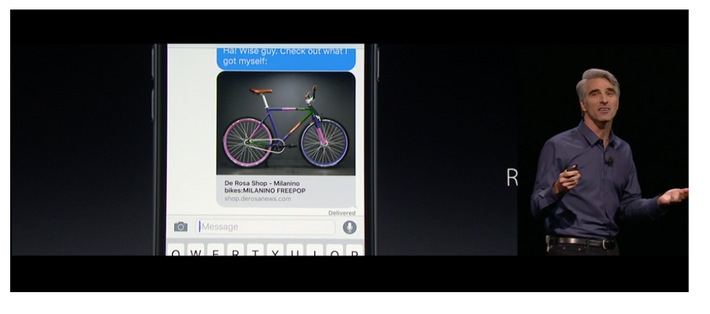 Right now, if you text a link to friends, all they'll see on their devices is the string of letters and numbers that make up up the URL. With iOS 10, links will be visible with images and headlines in your messaging thread. Same goes for videos, which can be played right from iMessage without having to open a browser or third-party app. This means — you guessed it — more time spent in the app, and less time outside of it.
Users will now be able to tap the camera open within the messaging app and immediately see through the lens to take photos and video. This eliminates the middle step users currently go through: tapping twice to get from messages to camera.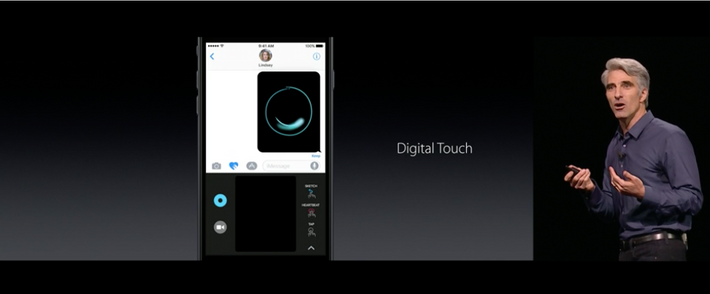 The best thing about texting is that nobody has to decipher your terrible handwriting, but if you long for the days of passed, handwritten notes, this feature is for you. Users will be able to doodle in the app to send handwritten notes and pictures.
You'll be able to select from large and small text sizes for each message you send. This can be used both for dramatic effect, and also for sending something big enough you know your grandmother will be able to read. (This feature also bears a striking similarity to Google's newly released message app, Allo.)
This is mostly for developers now, but will be important to the rest of us soon: Apple, in keeping with an overall WWDC trend of opening its technologies up to developers, is allowing third-party integration within its existing system. These new apps will be available in a menu accessed by swiping up in Messages, as demonstrated during WWDC using a stickers app (Does this feel like Facebook's messenger? It should.) Federighi also coordinated a group lunch-order ("deconstructed" samosas for 5,000 people) using DoorDash right from Messages, which shows the kinds of integrations we should expect to see.