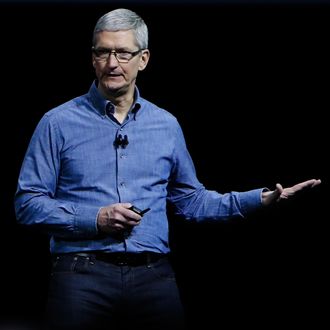 Photo: GABRIELLE LURIE/Getty Images
Apple may have made its disdain for Donald Trump known (sorry about that GOP-convention funding thing, Mr. Trump), but that doesn't mean the tech giant wants to completely alienate itself from the Republican party. The company's CEO will still be hosting a breakfast fundraiser for House Speaker Paul Ryan next week, Politico reports.
The event, which Apple's treasurer Gary Wipfler is also hosting, will raise money toward supporting other Republican candidates in the upcoming election. Apple, as Politico also notes, does not have an official political action committee. So Cook is sponsoring this event independently of the company. (The Apple CEO has a personal history of donating to candidates from both parties.)
From a business perspective, it makes sense for Apple, since, Trump or no Trump, it never hurts the bottom line to curry favor in Washington. But it's also a good reminder to Democrats that placing your political faith in a corporate institution is asking for disappointment.