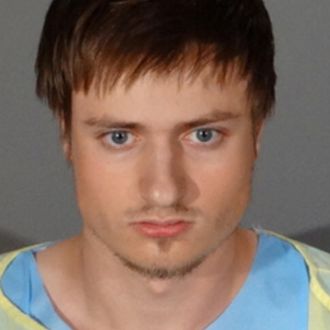 James Wesley Howell.
Photo: Santa Monica Police Dept.
Less than 24 hours after gunman Omar Mateen carried out the deadly massacre in an Orlando nightclub, Santa Monica police arrested a heavily armed man who told cops he was on his way to Los Angeles's Gay Pride parade. Police initially said James Wesley Howell, a 20-year-old man from Indiana, had intended to "harm" the Gay Pride event, but later retracted that statement, and clarified that Howell only indicated that he planned to attend the event. 
On Tuesday, Howell was charged with felony possession of an assault weapon, possession of explosives on a public highway, and possession of high-capacity magazines. He was also charged with having a loaded weapon in a vehicle, a misdemeanor charge. Prosecutors are requesting $2 million bail because they consider him a flight risk.
It's unclear what Howell's motives were when police stopped him, but he was lugging an arsenal that could have done some serious harm: three assault rifles, 30-round magazines, a Taser, a black hood, a security badge, a knife, handcuffs, and five gallons of gasoline. He also had a 25-pound container of "Shock-Shot," an explosive often used at gun ranges to blow up targets. Santa Monica detectives wrote in a statement that the "amount of explosives in the container would have posed a grave danger" if they were set off either intentionally or accidentally.
Police discovered him after a Santa Monica resident reported that a man had been knocking on a neighbor's door and window around 5 a.m. Sunday. Howell, who is reportedly bisexual, was an "explosive" person, according to an ex-boyfriend who said he didn't know why Howell had gone to California. But friends also said they didn't believe he had something against the gay community, and had attended gay-pride events in Louisville, Kentucky, where he grew up. At the time of his arrest, Howell was on probation in Indiana for an intimidation charge he pled guilty to in March. He reportedly pulled a gun and made threats against a neighbor and an ex-boyfriend last October, according to the Associated Press. The trip to California, and, of course, his weapons cache, violated the terms of his yearlong probation — and it's why the Los Angeles D.A. is asking for such a high bail amount. 
Howell was also out on bail in Kentucky for reckless driving and fleeing police; the bail, per the Los Angeles Times, has now been revoked. 
The FBI reportedly raided Howell's Jeffersonville, Indiana, home on behalf of the Los Angeles office Monday night, but didn't say what they were looking for or whether anything was recovered from the residence. Howell is also reportedly a suspect in a May 31 sexual-assault case, the details of which — and whether it might be related to the California weapons case — are also unclear.