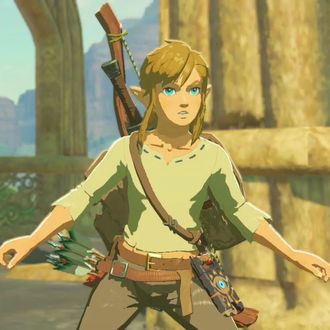 Nintendo is bringing out the big guns this year at E3, the video-game industry's annual convention, dedicating the vast majority of their showing to a single game, the next entry in the seminal Legend of Zelda series. This, folks, is literally a game changer.
When it comes out next year, the Legend of Zelda: Breath of the Wild will be the first major Zelda console release in five years. It's a substantial departure from the formula that Nintendo has hewn closely to in the past, featuring open-world gameplay, and other features cribbed from more modern games.
Also, Link can jump now. Into the air! There is a jump button players can press, so that Link can jump whenever he wants.
It is weird to celebrate the arrival of a jump button — the most basic of video-game-button functions — in 2016, but here we are. In past games, Link would only jump automatically when running off of a ledge. He could also kinda leap to the side while in combat. Now, players can jump whenever and wherever they choose.
Astonishing. This is an oddly big deal.