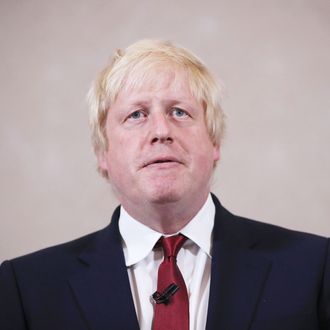 Boris Johnson.
Photo: Dan Kitwood/Getty Images
Boris Johnson, the bushy-haired British dog who caught the car last week, will not run to replace David Cameron as the U.K.'s prime minister.
"Having consulted colleagues and in view of the circumstances in Parliament, I have concluded that person cannot be me," the former London mayor and leader of the "Leave" campaign told reporters Thursday. "My role will be to give every possible support to the next Conservative administration, to make sure that we properly fulfill the mandate of the people that was delivered at the referendum, and to champion the agenda I believe in."
Johnson was widely viewed as Cameron's most likely successor. The journalist turned right-wing populist politician lent his popularity to the "Leave" campaign late in the game. According to the New York Times, Cameron had promised Johnson his choice of "almost any job in government" if he would campaign for "Remain."
Most interpreted Johnson's decision to forgo that offer as a sign he wanted the job that wasn't on the table: Running as the leader of a popular — but not too popular — "Leave" campaign, would expand Johnson's base of support among his party's Euroskeptic wing, setting him up for a shot at the throne.
But then "Leave" actually won. And everyone in Britain got a little poorer. And a mob of angry Londoners wished Johnson good morning by chanting "Scum!"
Johnson then penned a column in The Telegraph, in which he promised Britain that it would enjoy literally all of the benefits of EU membership without any of the costs. His editor later told the public not to take that column too seriously, because Boris wrote it while "tired."
Now the former mayor has decided that he would rather not clean up this mess.
Meanwhile, Johnson's fellow "Leave" campaigner, justice secretary Michael Gove, announced that he would seek the Tory leadership. Gove had previously insisted that he had no interest in being prime minister. But since last Thursday's vote, Gove appears to have grown distrustful of Johnson.
In emails that leaked to the press, Gove's wife, Sarah Vine, instructed her husband, "One simple message: you MUST have SPECIFIC from Boris OTHERWISE you cannot guarantee your support. The details can be worked out later on, but without that you have no leverage."
Home Secretary Theresa May will be among Gove's challengers for the leadership. May was a quiet supporter of remaining in the European Union, and positioned herself as the no-nonsense, hardworking politician best suited to craft "a sensible and orderly departure from the European Union."
"What happens in government isn't a game. It is serious business that has real consequences for people's lives," May said, in a not-so-veiled jab at Johnson. "I'm not a showy politician. I just get on with the job in front of me."