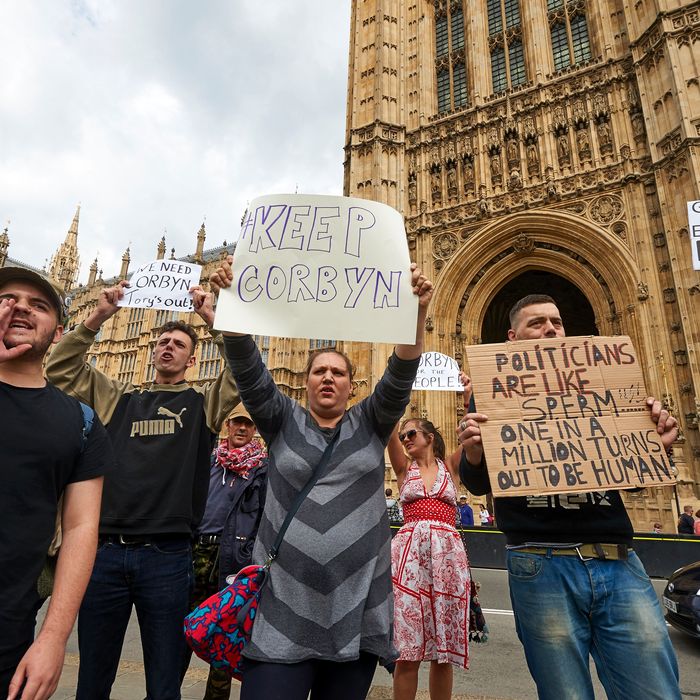 At least Corbyn still has the support of these protesters.
Photo: NIKLAS HALLE'N/AFP/Getty Images
The world has been reeling since the U.K. voted on Thursday to exit the European Union, but on Sunday we got some welcome news in the Daily Telegraph: There is "every cause for optimism," the "negative consequences are being wildly overdone," and everyone "should be incredibly proud and positive about the U.K., and what it can now achieve." At least, that's the spin Boris Johnson — former London mayor, leading "Leave" proponent, and potential prime minister — tried to put on the vote in his regular column. From the look of it, just about every other British politician hasn't gotten the message.
Taking a cue from the ruling Conservative Party, which is battling over who will succeed Prime Minister David Cameron following his post-Brexit resignation announcement, the opposition Labour Party is now facing its own leadership crisis. Labour supported remaining in the E.U., but for months, leader Jeremy Corbyn was accused of failing to do enough to rally supporters to the cause. And since the new prime minister is likely to call an election, Cameron's impending exit increases concerns about Corbyn's ability to win a general election. Over the weekend, that boiled over into a coup attempt that led to the firing or resignation of a third of Corbyn's shadow cabinet. Two Labour lawmakers submitted a motion of no confidence on Friday, and early on Sunday morning, Shadow Foreign Secretary Hilary Benn called Corbyn to say he and other top Labour leaders no longer supported him. The call ended with Corbyn firing Benn.
"Following the result of the E.U. referendum, we need strong and effective leadership of the Labour Party that is capable of winning public support," Benn told the press, according to the New York Times. "In a phone call to Jeremy, I told him I had lost confidence in his ability to lead the party, and he dismissed me."
Many of the other conspirators quit before Corbyn had a chance to fire them; by the end of the day, ten of the Labour shadow cabinet's 31 members had submitted their resignation. "I do not believe you have the capacity to shape the answers our country is demanding and I believe that if we are to form the next government, a change of leadership is essential," Health Secretary Heidi Alexander said in her resignation letter.
Corbyn insisted late on Sunday that he will fend off any coup attempt. "I regret there have been resignations today from my shadow cabinet," he said in a statement. "But I am not going to betray the trust of those who voted for me — or the millions of supporters across the country who need Labour to represent them." And for what it's worth, he also denied that he made a lackluster effort to keep Britain in the E.U., telling a heckler at London's Pride festival, "I did all I could." 
Scottish First Minister Nicola Sturgeon capitalized on the U.K. leadership vacuum, calling the conflict within the two leading parties "utter chaos, shambolic and frankly disgraceful," according to The Wall Street Journal. Sturgeon vowed to find a way to keep Scotland in the E.U., even if means holding another referendum on Scottish independence and potentially breaking up the U.K.(A poll found that following the Brexit vote 59 percent of Scots are in favor of independence — but there must be some mistake, since according to Boris Johnson's Sunday column, "We had one Scotland referendum in 2014, and I do not detect any real appetite to have another one soon.") The first minister also suggested that the U.K. cannot legally exit the E.U. over the objections of the Scottish Parliament, but British legal scholars are divided on whether that's within Scotland's power.
One thing everyone can agree on (except Boris Johnson, we're guessing) is that the leadership crisis does not inspire confidence in Britain's ability to smoothly navigate itself through its divorce from the E.U."At a time when the whole United Kingdom needs leadership probably more than it's needed leadership in any part of the postwar period you have got the Conservative Party and the Labour Party completely abdicating responsibility," Sturgeon said. "They are letting down people across England, across the entire U.K., and I look on in utter horror."