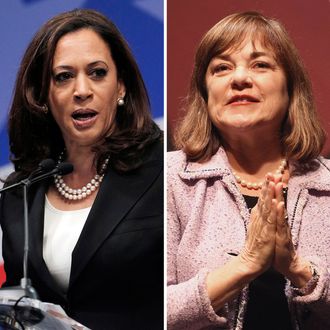 Democrats Kamala Harris and Loretta Sanchez will likely have a rematch in November for Barbara Boxer's open Senate seat.
Photo: Carlos Avila Gonzalez/AP; Tommaso Boddi/Getty Images
Once the fallout from California's Democratic presidential primary is determined tonight, any leftover attention should focus on down-ballot races, where California's odd top-two primary system will be in effect for the third time since voters imposed it by ballot initiative in 2010. By definition, in all congressional and state offices the top two candidates in this nonpartisan primary, whether or not one wins a majority, will proceed to the general election. That means voters can and will create November matchups between candidates from the same party. In 2014, this happened in seven congressional districts. It's now very likely to happen in one of the open U.S. Senate seats that will help determine control of the upper chamber next year. 
A general election between Democratic attorney general Kamala Harris and Democratic U.S. representative Loretta Sanchez is partly the product of the two politicians' own strengths: Harris has been considered a potential national political star ever since she first became San Francisco's district attorney in 2003; Sanchez has been in Congress for 20 years. Harris is half African-American, half Asian-American. Sanchez is Latina. Harris is aligned with California progressives, Sanchez with national and state Democratic moderates. 
But they would not be on a trajectory for an all-Democratic general election had California Republicans gotten their act together to unite behind a single Senate candidate. Two former state party chairs, Tom Del Beccaro (a staunch conservative) and Duf Sundheim (a moderate who has conspicuously failed to endorse putative presidential nominee Donald Trump), are appealing to different corners of the GOP electorate. The best-known candidate, however, is late entry Ron Unz, an unsuccessful 1994 gubernatorial candidate responsible for a successful ballot initiative restraining bilingual education. None of the three has broken double digits in any poll, and it's unclear any of them have late momentum, although Sundheim is benefiting from an independent expenditure effort and an endorsement from former governor Arnold Schwarzenegger.
Meanwhile, Harris has consistently led every poll by a healthy margin, with Sanchez consistently second, though with less support than the Republican candidates combined. The unstable situation has led some in the GOP to hope for a late consolidation of their vote. Others, however, are already looking forward to a Harris-Sanchez general election, and are quietly backing the more centrist, "pro-business" Sanchez. 
The turnout dynamics of the presidential primaries may have been a final blow to Republican hopes for a Senate breakthrough. In the limited experience of California under top two, low turnout has usually created a primary electorate that tilts Republican. With Bernie Sanders waging a frantic effort to win an upset in the Golden State, and Hillary Clinton matching him in expenditures and personal appearances, that could change this year. While both Harris and Sanchez have endorsed Clinton, Sanders Country significantly overlaps with Harris strongholds, while the efforts of both presidential candidates to turn out Latino voters will help Sanchez. 
Beyond all the normal calculations is the simple fact that the 34-candidate Senate field — including representatives of minor parties and an assortment of independents — will overwhelm many voters, who could just skip this contest, which is getting much less media attention than either the presidential or other down-ballot races.
Top two will likely again produce some other intra-party general elections in House races, including a rematch between Democrats representative Mike Honda and Ro Khanna in Silicon Valley, and a multi-candidate primary on the Central Coast for the seat of retiring Democratic representative Lois Capps.
You can't help but wonder what the California presidential primary would be like if top two were in force for that contest as well, and Bernie Sanders and Hillary Clinton were trying to squeeze Donald Trump right off the general-election ballot. Would Republicans unite behind their nominee knowing a general-election victory in the Golden State would be unlikely, or succumb to the temptation of meddling in Democratic politics? For the sake of everyone's sanity, it's a good thing we don't have to find out.