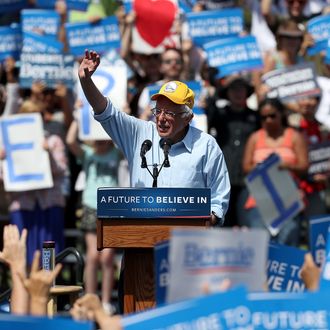 But are the newly registered voters headed to Berning Man?
Photo: Justin Sullivan/Getty Images
Nearly 18 million Californians are now registered to vote, California Secretary of State Alex Padilla announced on Friday, the most voters ever registered in advance of a state primary there. Ninety-eight percent of the almost 650,000 new voter registrations occurred over the final 45 days of registration, which ended on May 23, and 76 percent of them were for the Democratic Party. That may be welcome news for Bernie Sanders, who has been making a big play for what would need to be an landslide victory in the state on Tuesday if he has any hope of overtaking Hillary Clinton in pledged delegates heading into next month's Democratic National Convention in Philadelphia. Social media likely played a role as well, noted Padilla, as Facebook pinged its California users with a reminder to register. 
However, while the total number of registered voters may be a record, the state's percentage of registered eligible voters is not, according to the Los Angeles Times. In addition, while Donald Trump may strangely believe he can put the traditionally Democratic stronghold into play, the numbers tell a different story: As a result of the new registrations, Democrats now outnumber Republicans in registrations by 17 percent. There was also a slight drop in unaffiliated voters, indicating that some independents registered for a major political party during the rush. Republicans are holding a closed primary on Tuesday, but Democrats are allowing unaffiliated voters to vote in theirs.